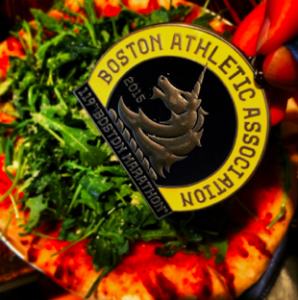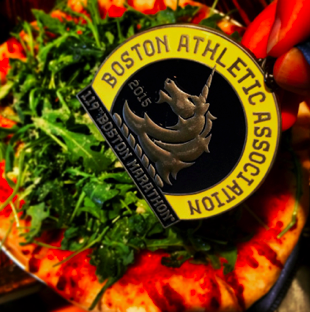 This will possibly be my first and last race report for team Teal, so the pressure is on.
I was only ever going to run one marathon, but when I got a qualifying time in Berlin 2013, it would have been rude not to use it. Having never been to Boston before it seemed the obvious choice.
Training was going well, despite having spent Christmas with my arm in plaster I was still getting in the miles. Alas my weakness was an inability to say no to offers of trail runs, and with 6 weeks to go I overdid the miles and under did the core conditioning… subsequently I ended up unable to walk.
I hobbled around the hospital for a few days – limited to lifts as stairs were impossible and eventually an orthopaedic colleague took pity on me. An MRI showed bad quadriceps tendonitis. So I was shipped of to the physios.  Despite 2 weeks of proper rest, lots of ice therapy and physio, with only 4 weeks to go I was eventually allowed to run, albeit only for 5 minutes on a treadmill! Boston was not looking likely. There were lots of tears and phone calls to airlines and travel insurance; I was very close to cancelling.
However that week I bumped it up gradually and by the following weekend I managed a half, after which a somewhat stunted tapper began. The flights weren't cancelled and I was stateside bound.
On arriving in Boston I felt the most incredible buzz from the city. I went for a couple of mini trots around the streets just to keep my legs ticking over, and on every street someone wished me luck and shrieked "Boston strong, good luck honey!".
The Boston marathon is in its 119th consecutive year. It's the longest standing annual marathon in the world. 30,000 participants run, primarily those with qualifying times but a few places are kept for fundraisers. It is always held on the 3rd Monday in April, Patriot's day (celebrating the first battles of the American Revolutionary War i.e. Americans claiming the Americas back from the Brits). Following the horrific bombing in 2013 the city comes together to celebrate this event in a way only Americans can.
The weather had been beautiful in the days before. However marathon day was not so lucky. 20mph cold Atlantic winds and non-stop rain were forecast, unfortunately the forecasts were right! It was horrendous. All the runners I spoke to kept telling me it was not a PB day.
The course itself starts in a town out west of Boston and takes an undulating route through lots of little towns ending with an epic run into Boston city centre. Marathon day started with a hair raising scooter ride to the school bus, courtesy of my AirBnB host! Then an hour-long coach ride in a yellow American school bus to the start line, which was not good for one's mental state.
On arriving at the athletes' village (protected by vast numbers of police and FBI) I inhaled the complimentary bagel and donned my disposable waterproof poncho (which I only meant to wear for the start), covered my legs in Vaseline (great wind and rain protectant!) and off I went. Despite the ghastly weather and numb limbs it really was great fun; people cheering, playing music and whooping all along the route. The support was immense, especially given the torrential rain and gusting winds.
The course was considerably more hilly than I had anticipated, the ups were bad but the downs hurt my knees. Heartbreak hill (a half mile ascent at mile 20) came and went, and around mile 22 the poncho was finally removed! I was soaked, both arms were completely numb and didn't work, I was unable to hold the water cups being handed out at the mile points. My untrained legs hurt so much I wanted to cry, but I ploughed on.
Boston appeared on the horizon, and the crowds were deafening. I came in at 03:20:42 and the 9th GBR women, very happy and immensely grateful for the "warming coaches" which were laden with doctors and dry towels… God bless America!!
Whilst I wouldn't recommend only running 14 miles in the 6 weeks before a marathon, it is possible!
Pic 1 – My poorly knee, MRI showing a glowing quadriceps tendon.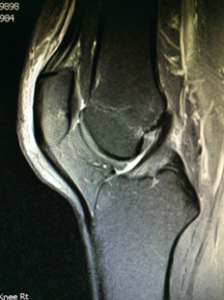 Pic 2 – Knee wrapped up in a game ready ice therapy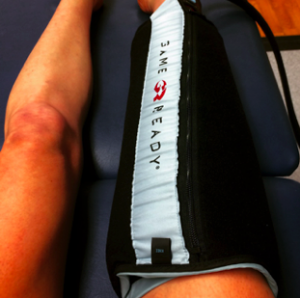 Pic 3 – View from the balcony in Boston – if only marathon day has been so sunny!