Lesley Pymm reports: The sun shone as we waited to start the Haughmond Handicap Chase as the Sports Village at Shrewsbury. The usual decisions about what to wear, I decided that it was warm enough for a vest and then a coffee after picking up my number and sportident dibber (orienteering timing device that was used rather than chips).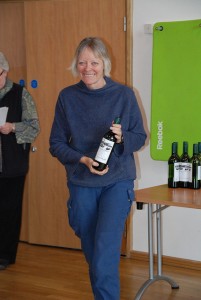 This is a great run where the slower runners start off first at a time decided by their predicted finish time. As I am not running well at the moment, I asked to start a few minutes before I should have so that I could just take it steady.
The run starts with clearing the data from the dibber, then sticking it in the start timer. Then off you go for 1k around the cycle track at the sports village before going off on a footpath that leads to the old canal towpath (now a cycle path). This goes along under the A49 and to Uffington on the Shropshire Way. At Uffington there is the only road crossing, which we do twice as we come back the same way, and into the woods.
A lovely gentle, slightly muddy, climb up to the road just by the 14c Haughmond Abbey which is just out of view, but good for a visit afterwards. There is then a bit next to the B5062 before turning off onto a minor road which takes us to the drink station. It was here that there was a little girl and her parents sitting on a rock blowing a horn and waving bells! Hardly a big city event!
Passing the drink station there is a view of the Wrekin before we turn off up a steep forestry track which goes to the top of Haughmond Hill. There is a viewpoint here, but obviously I didn't hang around to look at the various hills on view. Turning back onto the only really difficult path of the run, a steep downhill which is made worse by the faster runners starting to overtake.
At the bottom you continue on woodland paths to come out onto the outward route. Back over the road and along the cycle path to the cycle track and another lap of 1k. Finishing with the dreaded dibber being put in the timing device!
A really peasant, friendly run where I get to see faster runners that normally I only see at the start and then they are gone in a cloud of dust. The presentations are good – the winners (on real time) got a beautiful handmade wooden bowl and a bottle of wine. Other winners and category winners had wine (good wine!). The first person back gets a pork pie – because they must have told porkies on their entry form and the last finisher also gets a prize.