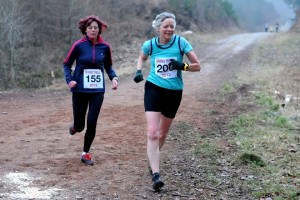 Lesley Pymm reports on the Hanchurch Hilly, the first event of the Stone Master Marathoners 'Spring Treble' series.  It was a cold group of runners who stood at the start line on Thursday evening. Usually this race is run on a warm, close Spring evening, not so this year when it was really cool.  The good news was that the midges were not in evidence! 
The start is fairly flat and then we go off on a decent trail downhill.  Quite early on in the race we had to climb over three trees that had blown over in the recent poor weather, but basically the course was not too bad.  After a while we ran into some woods where it is uphill and fairly difficult underfoot.  Running around the perimeter of Hanchurch Woods we came out at the 'boggy bit', where they had kindly waymarked the best way to run!  
Coming out of that it is a right turn and then we really started to climb.  This gave me the chance to pass a few people.  It was not as muddy as I have known it in previous years, so running was fairly easy (if uphill can ever be called easy, at least we were not sliding back down after every step!)  
Reaching the top it was another belt along good tracks before the final climb towards the finish.  A right turn after the climb and a run of 50 meters or so brought us to the finish. 
The next two events in the series are over the next two Thursdays, next week is at Milford on Cannock Chase and the week after will be at Oulton.