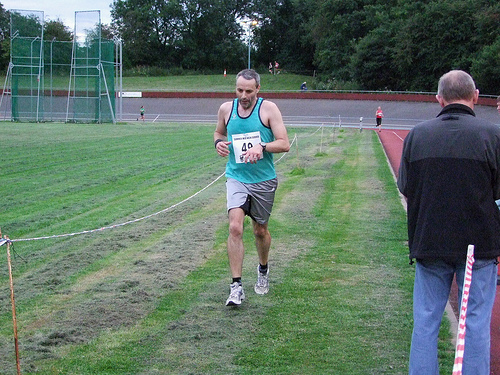 Lesley Pymm reports on the final event, on 12th August 2010, in this years mid-week series. Gary Hawkesford also ran.
This was held at Halesowen AC and was an interesting course to say the least. It started with two laps of the track, then went around a loop which included woodland and the perimeter of a large field – some slopes and steps – before getting back to the track.
We went around the track again and out onto the loop. There were 3 laps in all and we finished with about 1/2 lap of the track. The beauty of it was that they were able to provide a drink station on the track which we passed on every lap and at the finish, there was support from people all the way round as many were around the track area and others ran or walked out onto the course and gave encouragement.
There were burgers and a real ale bar at the end – sadly not enough veggie burgers for the number of vegetarians around, so I was left hungry. I know – I should have run harder and faster and got back sooner!
Gary Hawkesford also ran this one in a time of 41.13 and my time was a bit slower (!) 57.36. A good series – I came third overall in my category.
Lesley Pymm
[pic: Halesowen Athletic Club]