Lesley Pymm reports: This was the 25th Anniversary run of the Grizzly – and I had done 15 of them. Every year I think 'is this going to be my last full Grizzly? Will I be shortcutted or pulled out?', but I intend to keep going until I really cannot do it any more, and then start to run the Cub run which is a mere 9 miles.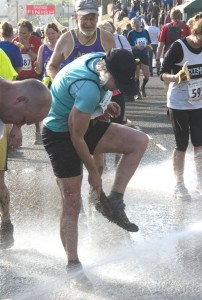 This year the Grizzly was 20.3 miles, but who is counting? Axe Valley Runners had really gone to town and put on a weekend of events involving the whole town. On the Saturday there were children's races, bands, face painting, competitions for the whole family. We arrived in Seaton in time to watch some of the events before going to the sea front to get ice cream.
The morning of the run was unbelievable – the sun was wall to wall and the temperature was quite high at 9.30. What to wear?? I decided on a T shirt under my BvH vest. Slapped on the sunscreen, and headed off to the start. We started in the opposite direction to usual and this may have been a mistake as it was a bit stop start for the first 1/2 mile or so, but eventually we were on the beach and stomping over the amazing large stones there for about 1/2 mile before coming back onto the road and running toward Beer.
It was on this road that I got a shout from Lesley and Carol (two Cannon Hill parkrunner friends who were marshalling at the Grizzly). Into Beer, high 5ing the children who were lining the street, and then out and around in a loop above the village, through the caravan site and over fields, where at about 5 miles there was a hold up to get through a gate and some runners were making use of the delay to have their pictures taken with the didgeridoo player, to eventually arrive at Branscombe Mouth.
At this point there was music from Kagemusha Taiko (Japanese-style drummers), the Cub run turned off and headed for home, the Grizzly continued on a steep uphill where I was overtaken by a photographer – but I suppose he was not having to pace himself over 20 miles. Then into the woods where there was the most amazing smell of wild garlic before emerging over fields to pass the Fountain Head pub where the Grizzly Group Stampita was playing and there was the annual beer festival going on.
There were other musicians out on the course including at least 2 pipers.We continued on (with great fortitude!) uphill on road for 1/4 mile or so before turning off again and over a track which took us to the coast path towards Weston Mouth. Then it was inland and over private land at Edge Barton Manor and into the famous Hole Bogs. We had all thought that the bogs would be dry this year – not the case at all. The marshal was literally up to his thighs in the bog – and he was a big chap! We asked if he was on his knees, but he assured us that it was that deep in the middle and we ought to keep to the edge.
The young lads who were helping did a great job there in helping us through and re-uniting some runners with their shoes. We then ran on to Gays Farm – this was a new part of the area that we had not used in previous years. There were ropes on one hill to assist us to haul ourselves up. We returned to Branscombe Mouth and then back to Beer via the common – this was again a different route to usual and seemed much harder. It was then over the coast path to Seaton.
As I came into the town there was a band in Cliff Field Gardens singing 'You're almost home and there's no beach'. This was music to my ears as we usually finish with another 1/2 mile or so on the beach. I was able to finish strongly as I had kept something back for the beach. I overtook a few on my way downhill, and got shouts from Lesley and Carol before hearing my name over the loudspeaker and Mike shouting at the end.
I then got the traditional hose down from the local fire-fighters, collected a 25th Anniversary cake, a T-shirt, banana and then went back for yet another ice cream. I think I had earned it! My 16th Grizzly completed.