Lesley Pymm reports:  My favourite run of the year and the weather forecast was not good.  I was so pleased to wake up to wall to wall sunshine – so what if it was a bit windy, it was dry and sunny.  I decided to carry my fell running bag, just in case the weather did turn.  As usual the event started on the Esplanade in Seaton in Devon.  We were seen on our way by the Town Crier and started on his last bell.  I was towards the back and got off to a very slow start.  Along the road for a few yards and then onto the stoney beach for about 3/4 mile.
Some runners were already walking at this point but I managed to keep the momentum going.  Off the beach by the Harbour and then through the boats and onto road as we ran past the start again and then off out of the town.  This is a bit boring – we used to go out along the coast path when I first started doing the Griz, but erosion has meant that they cannot take us out that way any more.  It was road as far as Beer.
The village was full of supporters.  Children were high fiving and people were sitting on doorsteps in the sun shouting us on.  Through the village and out to the caravan park where the first of the musicians was giving us encouragement – a piper this time.  Then we were out on the cliff top and heading towards Branscombe.  It was muddy!  Down the side of the cliff and we were heading for the beach when it all came to a grinding halt.  The muddy front runners had made this all so slippery that it was almost impossible to stand up and we went down the path to the beach.  We were all in single file in the middle of the path where it was a bit stoney and there was more grip.  As I stood there patiently waiting my turn to get onto the beach, a woman tried to come along the inside of us.  I don't know if she knew she could do the splits – but she certainly did it.  That must have been very painful!  She got up and joined the queue!!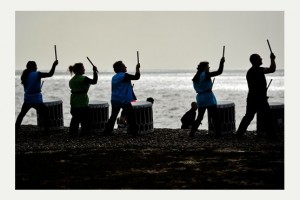 Onto the beach and almost immediately into the mouth of a stream and along the stream for a while before climbing out on stones and then past the steel drum band and into Branscombe.  Along a footpath which always seems un-ending to to the Village Hall and then off into countryside again.
This course was amazing.  It was so muddy in places that it was almost impossible to stand up.  I was getting stuck in mud and that was before I got to the bogs!  I went through 1/2 way in 2hrs 40 – not a pb then!
The marshals were great and everyone was saying how lucky we were with the weather.  I began to wonder why I had brought my bag with me, but it was somewhere to put my hat and gloves.  I had thought that there would not be any primroses out as the event was a couple of weeks earlier than usual – but there were.  Although I  could not see any garlic, I could smell it in the woods – lovely.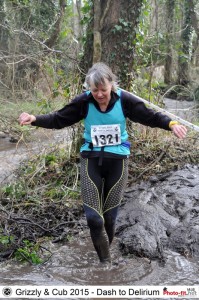 At long last I came to the bogs.  To be honest, it was so wet that it was easier than usual to get through.  The problem was getting into and out of the bog.  That was where the real mud was.  After the bog there was a long climb up a very slippery slope – I was usuing a rope to pull myself up.  At the top it was bad that the marshal was hauling us the last few yards.
I was caked in mud – all over my hands.  A bit more road running and then through another woody bit.  There was a stream here and I used the opportunity to wash my hands as I knew there was a flapjack stop coming up and wanted to avoid a mouthful of mud.  The flapjack was very welcome.  As I was running along trying to swallow it with a cup of water a marshal asked if my mates had gone on.  I replied that I didn't have any mates and she thought I was very brave to be running it on my own.  Well, it was my 19th year there and I have always run on my own, so I don't think I'm particularly brave.  There is always someone to chat to as you go along.
Past the Fountain Head pub where there was a folk band playing and then I knew that there was only another 5 miles or so to go.  Eventually I was back on Branscombe beach.  The sea was coming in and I thought that it was spray that I could feel on my face.  After a while I realised that it was drizzle.  Nothing to worry about though.  At the end of the beach there was a group of first-aiders around a runner who was on the ground.  I continued up the path leading to the stairway to heaven.  I could hear the helicopter coming in for the fallen runner.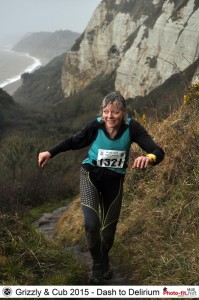 On the top, the rain was harder and it was starting to feel very cold.  I fumbled around and got my jacket out of the bag.  Once that was on and I had my hat back on it was better but there was hail coming in horizontally and IT HURT!  At least I was just passing through, there was a marshal up there who had to stay there!
Usually I can see the finish from this point, event though it is about 3 miles away, but not this year.  I couldn't see anything much.   I dropped back into Beer and the streets were empty apart from the marshals who had to be there!  Up the final climb.  My hands were freezing and as they were so wet I really struggled to get my gloves back on.  It must have kept me occupied for about 1/2 mile!
On the final road bit back into Seaton, I passed a group.  Someone actually said 'fast runner coming through' – well, it's all relative I suppose.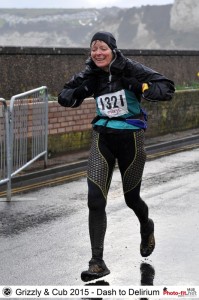 Approaching the finish I couldn't get my jacket undone to let them see my number, so I had to run aloing the Esplanade holding my jacket up!
Another fantastic run.  20 ish miles, 2,613 feet of elevation, loads of mud and it took me about 5 hours 45 minutes.  What a great day out.