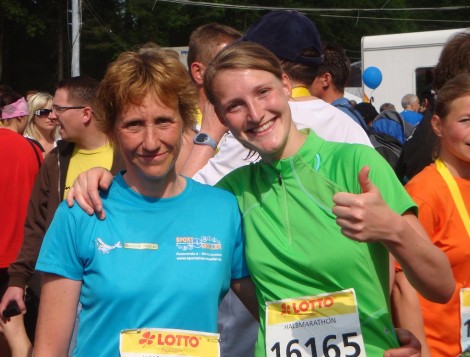 Susanne Koburger writes: Hey Bournville Harriers. In the meantime I've settled back into my live back home. And when I'm not busy finishing my thesis, I'm running of course!
Last weekend, I participated in the Rennsteig Half Marathon, my absolutely favourite race as it leads through the beautiful and challenging countryside of the Thuringian Forest. And although I was incredibly tired (the race starts at 7.30am), I could somehow manage to enjoy the stunning views.
I finished after 1:34:38 h and came in as the 2nd female student, the 4th women in my age class and the 11th of all women among 5909 starters! Presumably that had something to do with my brand new super performance laces! I still have sore muscles, but I guess the pride stays forever =)
I miss the runs and sessions with the club, and the chats with many of you. I hope everything's alright in Birmingham!
Warm greetings to all of the Bournville Harriers!