Dan Bird ran the Greater Manchester Marathon in April – here's his report: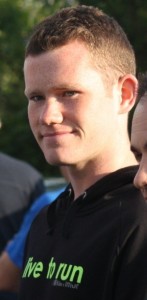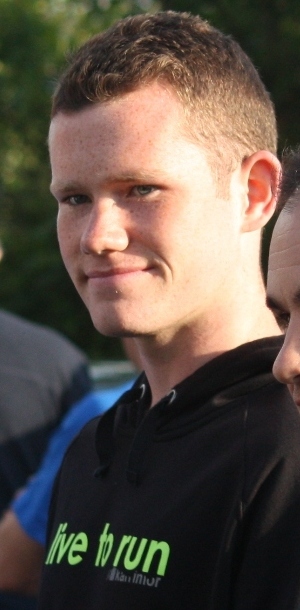 In December 2011 was the last time I trained with Bournville Harriers. I made a difficult decision to withdraw from the Club for a few months to train on my own following a 3:15hr Marathon Program for 16 weeks. A busy schedule running 4-6 times a week that included long runs, tempo runs, interval, hills and lots of miles, which built up roughly 40-60 miles a week. This meant I had sacrifice my Sunday lie ins and some of my social evenings.
1 month before the Marathon: I decided to raise money for a Charity called: (The Challening Behaviour Foundation). During my hard work training up for my 1st Marathon & while studying BTEC Sport L3 at Queen Alexandra College in Harbourne where all my friends & teachers have been so supportive giving me their generous advice & donations. If anyone would like to sponsor me you can follow this Web Page: http://uk.virginmoneygiving.com/SportDan91.
On Marathon Day: My parents drove me to the event very early so I could settle into the environment easily, but it was so cold waiting around. I was feeling excited, but also nervous due to forecast of HEAVY RAIN & STRONG WINDS, which was difficult blowing against me during the WHOLE RACE. To be honest it's normal weather up North in Manchester.
I started the race with 2 friends from Swinton Running Club for the 1st 2 miles, then I decided to leave them both to do remaining 24 miles on my own. I was Running Fresh & Efficient going through the miles under 7 mins/1 mile, until I reached 20 miles, that is when my legs were slowly feeling slugish & facing mother nature's wind forcing me to become even slower during the last 6 miles.
Luckily my Running Club Swinton was at the 2nd last Aid Station at the 21st Mile Mark, giving out water and most importantly giving their MORAL SUPPORT – (GO DAN!!) this helped me over come the physical & possible mental tiredness. At the 25th Mile I saw parents shouting 1 MORE MILE TO GO!! (I could almost feel the finish). At the last corner I saw a Marathon Man holding the Sub 3hr pace maker sign. It was incredible to hear loud roar of crowds & to know I was near the finish, I sprinted using the last remaining muscles in my body to cross the line knowing I did my 1st Marathon (Under 3hours!!).
I collected my recovery items, got my Marathon Medal & then I rushed over to a massage tent where I was in much need of Treatment as my legs were shattered. After the quickest & most painful massage ever, I saw my proud parents!! when they saw me outside the tent freezing & in a sore state (OUCH!!). We headed over to a packed tent where all 5000 bags were kept, and I needed my Clothes urgently (I wasn't the runner suffering in the cold while waiting furiously for our own bag as this is dangerous because lots of people suffered hypothermia standing around in bad weather conditions).
After an hour wait for my bag, feeling relieved to have my clothes back to get warmer that finally stopped me shivering from all the waiting around, then I was ready to go home for a nice warm bath. The next day I found out my fantastic result happily finding myself in 50th place overall & my time: 2:56:58.