I was startled by a louder and louder roar as a I ran onto the Tyne bridge. Not a crowd, but the Red Arrows flew overhead from behind and then the arch in front of me, in perfect formation, trailing red white and blue. I could have twisted my ankle there and then and counted it as a good day.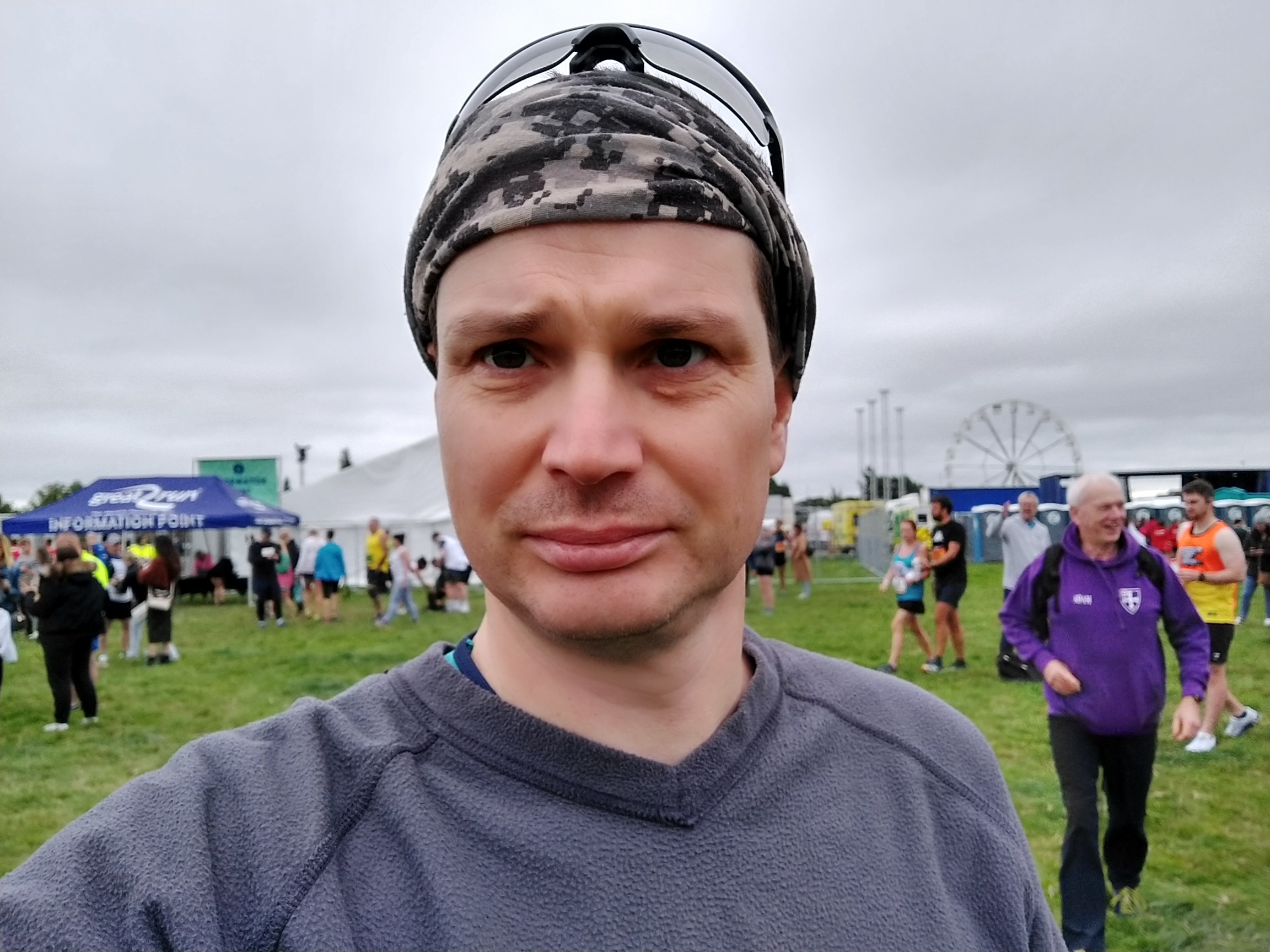 I grew up in a commuter town to the west of Gateshead. Utterly unsporty, and never seen moving above a day dreamy amble, it is now a surprise to the fifteen-year-old me to find himself carried in an older body at higher speeds and much longer distances. Regardless of my youthful indifference to physical exercise the Great North Run still cut through. That image of massed humanity streaming across the Tyne Bridge! I hadn't known it was the biggest half marathon in the world, but it always looked like the best. And I was finally running it. 
We were of course denied the mass start this year – in fact the race began very strangely for me. Though well organised with a vast but navigable athletes' village, the narrow timings given to us on our race information didn't seem to tie up with what happened when I'd got there. I'd had to collect a replacement run number so sneaked in earlier than I was supposed to after being dropped off by my best man. Then they started calling the entire orange wave, so I held back thinking it was a mistake. Eventually peer group pressure of everyone else heading to the start, along with a very chilly wind under a grey sky, convinced me to join them.
Walking along a car free motorway is surreal enough, but nerves were building rapidly, more than any other race I'd done. My legs were shaking, and I could feel tension throughout my body. This was a big deal for me, deferred from the year before, but also the nostalgia factor was adding pressure. I'd wanted this to be a big deal, originally planned to be a culmination of a family summer holiday catching up with old friends. The pandemic and then schools starting scuppered that, so I was nipping in and out for a weekend. And my training hadn't been great. Intervals had been going well – huge thanks to Lorna and the other coaches for their efforts over the pandemic year – but my long runs had been laboured, occasionally abortive, and I was worried that I wouldn't make it to the finish. I was braced for a painfully slow time. I hung around for a bit waiting for a pacer to start hoping that would help, he didn't, so I headed off right at the back of the orange wave almost on my own, through the multilevel concrete web of central motorway, the tunnel where everyone shouts "oggie oggie oggie", then out onto the Tyne Bridge for my personal Red Arrow salute. 
Not having done the classic route I can't compare directly but most of the replacement out and back route was run on the dual carriageways of Gateshead. A backdrop of self-storage units and terraced housing under grey skies and light drizzle (perfect running weather in fact). But place fifty-seven thousand runners, even spaced out over and entire day, add a Geordie crowd cheering us on by name, and the tarmac becomes welcoming, borderline euphoric. It wasn't easy but it was brilliant. Thumbs up to those on crutches, and the gorilla carrying another runner in a cage on his chest (didn't have chance to find out why). Multiple live bands helped, a mashup of "Ghostbusters" and "You Sexy Thing" got me up one particularly unwelcome hill. 
Oh yes, the hills. I've noticed this before, but how can a race which starts and ends in basically the same place feel uphill all the way? The return approach to the Tyne Bridge was a sharp right up a on ramp to yet another dual carriageway with already tired legs. But by now I was feeling much happier. The splits on my watch were encouraging, and though my legs were tired, for the first time in a long race I felt I could feel the training and miles I'd banked in my legs. I was going to make it. As an extra bonus instead of the route heading back along the motorway as I was expected there was a left bend and we were flung through the wide, handsome, Georgian streets of central Newcastle past the Monument and more crowds, the offer of beer (declined) before the final blast up to the finish line on the Great North Road. There the crowds were packed (in that way that used to be normal, but still feels a just a bit…. risky?), and over the finish line. Nothing left for a sprint finish but made it over the line in a time substantially faster than I'd expected (feared?) when I started. Not a PB, but a relief of a time.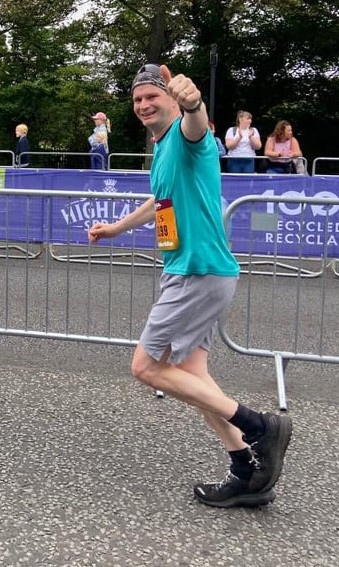 I'll be back for the main route,
and for the Red Arrows.