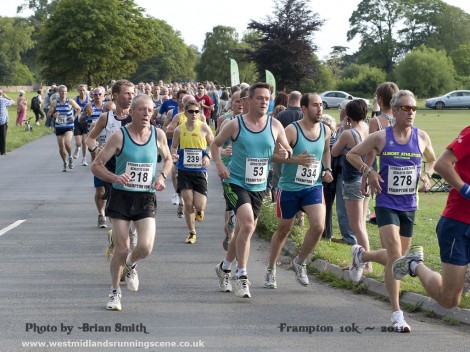 Outstanding performances from BvH runners, achieving 9 personal bests and 3 new club age records.
11 Club members travelled to the beautiful Gloucestershire village of Frampton-on-Severn to race the 10km which is part of our BvH GP race series.
Andy Halliday led the way home in 6th, equalling his PB followed by Gareth Cadd, achieving a PB and a new club age record.
Superb performances also came from Caroline Harlan-Marks (5th lady), taking 30 seconds off her PB, as well as Ed Hartley (3rd M55) and Lesley Pymm (6th F55) recording PBs and new club age records. Other personal bests were for Chris Harlan-Marks, Mike Scotney, Laura Leslie and Michaela Thompson.
More photos (from Brian Smith) here.
Report from Chris Harlan-Marks: As Caroline, Gareth, Ed and I hurtled down the M5, dressed in our Team BvH tops and listening to one of Caroline's dubious pre-race mix CDs, I must confess that I began to question my own sanity. What kind of thing motivates normal people to drive 130 miles (round trip) on a Monday night? I'm not sure I know the answer to that question, but apparently all it takes for us lot is 6 miles of relatively flat country roads and some free cider.
The Frampton Village 10k is a very popular rural road race in Gloucestershire, which was the 9th race of the BvH 2011 GP Series. The course comprised an out-and-back route with a loop in the middle ("lollipop shape", to quote the Font Of Wisdom that is Gareth Cadd), starting about 400m back from the village green and ultimately finishing on the green itself.
Upon arriving we met up with everyone on the green, had a brief moan about the sticky weather and an even briefer warm-up, and got going. I started out trying to hang on to Caroline and Ed, but that didn't last long and I settled into what felt like an ambitious but still manageable pace behind another group of club runners. There was one "undulation" at about 2.5 miles, (definitely a little bit worse than advertised), but the view from the top of the hill was nice and the course was genuinely downhill or flat from then on, apart from a very short drag near the end. The heat also dissipated a bit as the evening went on, and as a result I ran my first negative split in… well, probably ever.
In the end all of us had races to be proud of, despite the conditions at the start. I know Emily was a bit disappointed with her race and Ewan had been ill over the weekend so was not on top form, but both of them put in solid performances and will no doubt have new PBs to celebrate soon. Lesley Pymm absolutely smashed her PB and set a new club F55 age-record in the process. Michaela T knocked a massive 2 minutes off of her PB, set just last month in London. Laura L, who has been running well but struggling to return to full form following a long and very annoying injury, ran two full minutes faster than she did last month, beating her PB (set at Frampton last summer) by a huge 30 seconds. Mike "Pork 'n' Peroni" Scotney delivered a masterclass in pre-race preparation and walked away with a new PB. I managed a small PB in the end, largely because I got caught up in a mini-race with another couple of club runners in the last half-mile. Ed ran his first sub-40 minute 10k since joining BvH, and did it by a comfortable margin, beating his PB setting a new club M55 age-record in the process. Caroline took another 30 seconds off of her PB (set last month) and finished 5th female overall. Gareth finished as 7th man overall, over a minute quicker than last year with a new PB of 0:34:23, and set a new club SM age-record in the process. Andy Halliday equalled his PB to the exact second (what's that all about??), finishing in 5th place overall with a time of 0:34:00.
So, in summary: fast course, fast field, negative split, nice people, nice scenary, funny accents, free cider… all for a 65-mile journey down the M5. (And another, smellier one back up again later). Still crazy? Absolutely. But you all understand…