Oliver Kirkland reports:
The Festive Five (and a half) was billed as a post-Christmas trot along the banks of the Avon in the Vale of Evesham. Alas, the relentless downpours of recent weeks had transformed much of the official course into a lake, so the organisers  made the sensible decision a few  days before the event to re-jig the route. This meant runners would be taken on loops around the local farms and market gardens rather than a single longer circuit, but at least there was a race that covered the promised distance.
As a relatively new BVH member, I wasn't sure if I would be joined by any team mates. I had thought to myself beforehand that it would be highly unlikely if Lesley Pymm didn't turn up, given that she seems to compete in every race taking place within 100 miles of Birmingham…and who should I see within 30 seconds of arriving, but Lesley. Also present were Simon Goodwin and Mark Cooper.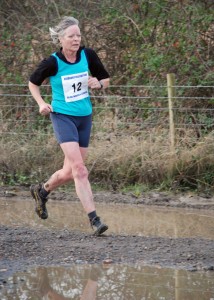 The 'inclusive' tone of the event was established on the starting line, which nobody seemed to come within 5 yards of (to be fair, there was an enormous puddle covering half of the path, which probably put a few people off). Anyway, it made an nice change to have a clear run from the off. A few faster runners went past me in the first couple of hundred yards, but the anticipated stampede never arrived.
I wasn't surprised when Simon caught me up after a mile or so and we spent the rest of the race keeping one another company. There were no particularly remarkable landmarks or features to report upon. As indicated above, 90% of the route  was off road  on agricultural tracks and the course was so flat it made the Cannon Hill parkrun look like the Waseley Wobbler. The terrrain was either hard underfoot and full of puddles, or soft and soggy. Simon seemed to cope slightly better with the soggy stuff, while I was a bit stronger on the tarmac and track (I think our footwear of choice dictated this, rather than any notable skills on either of our parts). Consequently, we changed positions a few time, but were  always within a few yards of each other.
Somewhere around the 4 1/2 mile mark, Simon informed me that we could take the guy we had been following for the previous few miles, so I felt it would would be discourteous to argue with him. Simon then really started upping the pace, so I checked my Garmin to see we were at about 5.3 miles. I eased off fleetingly as I didn't want to burn myself out with a mile still to go…when the finishing line appeared a couple of hundred yards away! I'm not sure when I had convinced myself I was running 10k, but with Simon starting to sprint to the finish, I had to react quickly if I wanted to catch him in time. Both of us gave all we had in the home straight and awed/amused (delete as applicable) the cheering/laughing (delete as applicable) locals with our 'athletic prowess', but Simon deservedly held on to finish in 6th place. We turned to one another and both uttered the words that amateur sportsmen all over the world so often share at times such as this: "I think I'm going to be sick…". Thankfully, however, neither of us embarrassed ourselves or the club on this occasion.
Mark put his warm-weather training to good use, finishing in 53rd, while Lesley ran strongly to the line, hopefully encouraged by the cheers from the small Bournville contingent, to come 84th.
The free cakes and hot drinks afterwards were most welcome and the overall atmosphere was not dissimilar to to the 'Leafy', so much appreciation to the organisers for putting on such a successful and enjoyable event under such challenging circumstances.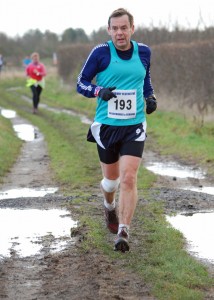 I was hopeful that I might have won a veterans' prize, but unfortunately turned out to be 18 years too young. I'm going to have to make sure I'm in the shape of my life come 2030.
Bournville Harriers Results:
Simon Goodwin         6th Place         35.48
Oliver Kirkland           7th Place         35.48
Mark Cooper           63rd Place         46.04