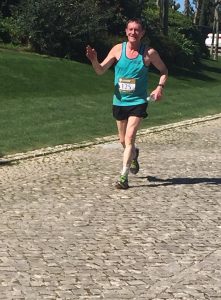 Bournville Harriers were represented by Barrie Roberts at this prestigious annual happening. It was a late decision to run as we only heard about the run/race the night before! Hundreds were at the start of this Beach Run. Most of the first half of the race was on wet sand/very wet sand, where the beach camber was less steep. The tide had just turned. The Run started promptly at 10:15am. Running on sand is quite hard work!
The latter half of the race was, for the most part, on a steeply undulating cliff path. A climbing rope rope might have been quite useful on some of the steeper parts! The weather was very hot and sunny, and watering well prior to the Start was a good thing to do.
Barrie topped his age category, and in the Race Results was 8th in age cat M55+ !  Barrie completed the challenge in a time of 70 mins 28 secs. A good training run. Possibly Barrie's first and last Beach Run!