Lesley Pymm reports: It is a really good job that I always aim to arrive at a run an hour before the start! I don't know how I did it, but I thought this race started at 11.00.
I got there just before 10, having got lost on the way, to find that they were just about to start.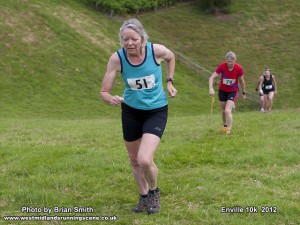 I pulled my shoes on, pinned my number on and legged it towards the start. A number of the other runners had seen me coming, and were shouting 'Come on, Lesley', but I didn't get there before the whistle. I tagged on the end and worked my way through the field.
I was not feeling that great at the beginning, as you can imagine – having not gone through the normal preparation, warming up, going to the loo 20 times – you know the sort of thing. I felt better as I settled into it, and then realised that both shoelaces had come undone – that's what comes of doing them up in a hurry, Mike was saying 'More haste, less speed' at the time!
Having stopped and re-tied my laces, I set off again and began to appreciate the course a bit more. It was in the grounds of Enville Hall/Estate and there were some interesting farm buildings, loads of horses, sheep and the odd lake or two. There was a church on the course and the bells were ringing, so that was lovely. It was a two lap course, so I was pleased to get round to the start and grab a drink. Then it was off and around again – I had to stop again and tie a lace. Anyway, I finished and did enjoy it.
It was a very low key event, undulating rather than hilly. The race HQ was a football club and there was a bit of confusion about which facilities were being used by men and women – I decided to leave the shower until I got home!
It is the first time I have ever made such a dreadful mistake and got to an event so late. I hope I never do again. Anyway – good course, could have benefited from a few more entries so if you have nothing else planned for the last Sunday in July 2013 – give it a try!