Laura Gale Reports on her latest adventure: 
Things I learnt
1. Northumberland is that bit of land between Newcastle and Edinburgh
2. Running on sand is very hard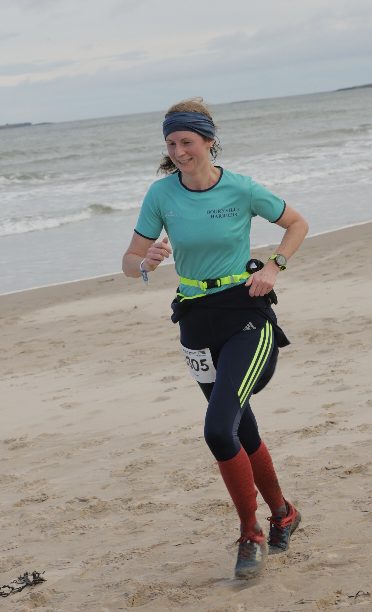 I'm a big fan of the Endurancelife Costal Trail Series. Northumberland is my third. Not cheap to enter when you have become accustomed to £5 entry fees for fell races, but these races are spectacular and extremely well organised. They are all on stunning stretches of coastline and you can chose a distance between 10km up to ultra marathon length. This piece of coastline boasts some of the most dramatic coastal scenery in the UK and is best known for its sweeping sandy beaches, rolling dunes and isolated islands.
Race briefing happened at Bamburgh Castle: a highlight of the Northumberland coastline. Captured and swapped hands numerous times over the years, the castle has a fascinating history with incredible views.
The half marathon was a point to point race, running back towards
Bamburgh. After the briefing all the runners filed onto coaches that
took us out to the start point at a tiny harbour village called Craster. These events are dog friendly, and Adam and I were wedged at the back of the bus with two Hungarian Vizlas. The ultra runners had already started their race earlier that morning further down the coast, and they were passing by us to cheers as we had our final instructions. The half marathon took us past Dunstanburgh Castle, through a number of links golf courses (possibly the loveliest, tamest trail surface ever!), snaking through sand dunes, along the edges of slippery wet cliffs, through shallow rivers, over piles of seaweed and along *a lot* of sandy beaches. Adam and I had started the race at the front of the pack. We have learnt gates and stiles can really slow you down as you queue to pass through them, making it hard to make up time. He sped off at the start, and as we ran round curved beaches I could just about spot him in the distance and tell from his body language that he was enjoying himself. He loves a bit of 'technical' terrain, and leaping over rock pools is right up his street. The beach sections were HARD. The wind was up to 50 mph earlier that morning.
Luckily it had dropped a little, and double luckily it was a south-westerly and was pretty much behind us – what a gift! It still meant that for some of the beach sections I had to run with my eyes closed to avoid sandstormitis. These long open stretches meant that I could just about see Adam in the distance. I seemed to be getting closer…
On the final straight stretch I had him in my sights, and the motivation to give him a Dean Parker style ass slap as i overtook was just too good to miss. I think he did a double-take and squeaked something at me as I cruised past him. With Bamburgh Castle rising up on your left, you were directed off the beach, though some killer dunes and then up a steep track, through the castle gates and over the finish.
As I was given my medal, t-shirt and food, an official came to tell me that i was 3rd woman! Horray! I had quality training under my belt and had tried really hard for the whole 13 miles, so it was brilliant to win something! At the prize giving I received a beautiful bronze medal, a years supply of Cliff bars and a pair of pants – the blurb says that they will make me run faster because of their 360 degree seams.
If you are into trail running and like the coast, then I wholeheartedly recommend you look up this series of races and incorporate one into a glorious cobweb busting weekend away. They are always stunning and there is always an after party in the nearest pub.
Results:
Laura: 1.47.06
Adam: 1.47.28
Brilliant race video: https://www.facebook.com/CoastalTrailSeries/videos/vb.233824993299043/1642733595741502/?type=2&theater