Dave Harte reports: My near annual visit to the well-organised Ely 10k in Cambridgeshire resulted in my slowest ever 10k time, yet I enjoyed every one of the 48 minutes it took me to complete it.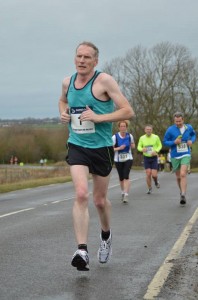 I entered this race in September but having trained only twice since the Birmingham Half Marathon due to an ongoing hip/thigh/bum injury, I was hardly looking forward to it.
I simply wanted to ensure I got round so I stayed firmly in the middle of the pack for the first half of the race which begins and ends not in Ely but in the nearby village of Little Downham
Although we're in the Fens the village sits on a small hill so there's a downhill at the start and a short uphill at 8.5k (with a chap playing the bagpipes to help encourage you). The race sells out very quickly and the field of over 500 included a couple of potential Olympians in triathlete Matt Gunby (the winner in 30:40) and marathon runner Claire Hallissey (second lady in 35:28).
As we crossed the 5k mark I decided my limbs could take a little more punishment so I upped the pace (I had no watch on but I guess circa 7 min/mile pace) and had a steady run back to the finish where we were treated to a nice t-shirt and a bottle of beer.
Given how crappy I've felt about my running lately it was lovely to take part in such a friendly race and complete the course with relative ease and with all limbs still functioning afterwards.
Full results (PDF).
Dave Harte – 259th – 48:20