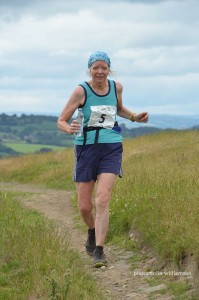 Lesley Pymm reports:  I had entered this last year, but was not well so they let me defer until this year.  I remember being very pleased that I had as I did parkrun last year and struggled with that.  This year I felt so much better.  The weather was great and I was really looking forward to it.  The registration was at Snailbeach in the Shropshire Hills.  It was a bit of a walk from there to the start, and we went past the finish.  Clambered over the stile that I would have to use just before the end!
We all congregated in the trees on the edge of Eastridge Forest.  After a short briefing where we were told to 'self-seed', we were off.  I had positioned myself near the back as I knew that I would be one of the slowest runners.  We set off along the trail and soon had to start climbing.  It was very warm in the forest and very little air.  There is a cut off – you have to get to 5.5 miles in 90 minutes – which does not seem hard, but in these hills and this temperature it may be harder than usual.  Eventually I climbed out of the woods and into a clearing.  This was better, there was more air and I could feel the breeze.
This was a really lovely run.  I passed the cut off point with loads of time to spare and could relax now.  Lots more climbing and then I was on the ridge.  This is the 'out and back' section.  I kept telling myself that I would soon get to the turnround point.  The faster runners were coming towards me and everyone shouted encouragement to eachother.  Then the track turned around the bend and I could see this string of runners ahead of me, for such a long way!  In the distance there was Devil's Chair and I knew I had to turn round before then.
Soon the runners coming towards me started to tell me that I was nearly there!  I got to the cairn just below Shepherds Rock.  I had to drop a wristband into a bucket there (to show that I had done the complete run) and then I was off again.  This was now predominantly downhill and I was over half way.
I passed some cottages that had been renovated by volunteers – something to come back and look at later – and got to the drink station on the end of the ridge before I started to drop downhill again.  There was electrolyte here, which I appreciated.  Quite a long downhill and at the bottom of it I felt my calves cramp up – I was pleased that I had taken the electrolyte on!  I turned on the bend and it started to go uphill.  The cramp started to wear off as I climbed.
It was really lovely, such a beautiful day and such a lovely run.  I was really enjoying it.  A bit further on I had a bit of a tumble, but I was OK.  I got up and carried on.  Eventually I got to the start again and then turned off right to go down to the finish.  I clambered over the stile, fortunately just out of sight of the finish area, and then I ran on to the finish.
The refreshments after the race were really good and there was a great atmosphere as we waited for the presentations.  All in all, this was a really good event and I loved it.  You had to do it in less than 3 hours 30 minutes and I had about 40 minutes to spare.