Lesley Pymm reports:  This was a new one for me.  I had done the Dursley Dozen in February and picked up the flyer for the Dursley Peaks.  This was something like half the distance as it is a long 10k, multi-terrain.  It was a warm evening and Mike asked me how long I thought I would take.  Obviously I had no idea, but judged that it may be similar to the Powis Trails 10k, so said it may be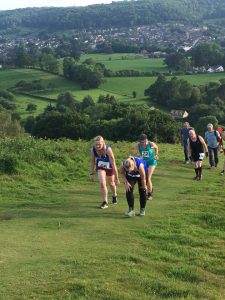 around 75 minutes.
From the start you could see two of the main peaks that were involved.  We started and headed off along the road before turning off road and starting the climb up Cam Peak. I realised that I was last at this point and didn't really want to stay in that position.  However, I didn't want to push it too much on this climb.  As we ran towards Cam Long Down I managed to get ahead of someone else, which meant that I was not running with the sweep!
I overtook a man going up Cam Long Down, but it seemed that he was better at the downhills than me.  We ran though Hodgecombe Farm and then up onto Uley Bury.  This was amazing and we did 1.5 laps of it, so good looks at the views.  Coming down I moved over to let the man who was good at downhills past, as I didn't want that pressure.  That was the last I saw of him until the finish as it was a long downhill and just what he wanted to get away.
The next climb was on Downham Hill.  We went up the path and round the top of the hill, taking care not to fall into rabbit holes, and then down the same path – so good for seeing the faster runners and giving and receiving encouragement.
As I came off this the marshal told me that there was about 1/4 mile before I was to turn off and back up the peak 'where the crowds are'.  I could hear the 'crowds', although I couldn't see them at this point. It was proper 'country' miles – certainly much more than 1/4 mile and I was starting to worry that I had missed something when I came across a marshal pointing me towards a path round a field and then towards the peak again.  By the time I got there the crowds had gone, but Mike was there shouting encouragement.
Back off this, a bit of road and then into the finish.  It was a really good run and much harder than I had expected.  I took 89.46 – and was pleased with that!  I took away another bottle of wine as 1st W60 and plans for next year.