Great runs from Lesley Proctor and Maria Wilkes with a new Club age best performance from Lesley in the Dublin Marathon on 25th October.

Lesley reports: Maria was never going to run a marathon – "it's too far and too much training!" The only other marathon I was going to run was New York- "because that is the only one I would be motivated enough to do the training for!" So to be standing on the start line of the Adidas Dublin Marathon meant that we'd both been telling porkies.
The seed was sown way back in April after supporting Maggie and many more BVHers in The London Marathon. We then spent a drunken evening booking our race places, the hotel and the flights, worried that we'd booked for Dubai rather than Dublin but it's great when a plan really comes together!! By July there was a 16 week training plan that we followed to the letter (one of us recording a lot more detail than the other!).
Fortunately it paid off. We both had great races. We ran together for the first 10 miles and then naturally got into our own grooves, Maria's being faster than mine so she left me at mile 10, taking my first gel and soaking up the atmosphere. The miles clocked up quickly and before I knew where I was I was at 20 miles and on an incredible high!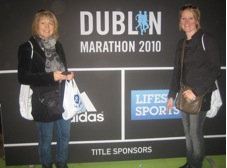 21 and 22 were brilliant and felt effortless but by 23 and 24 I could feel my energy draining away and my legs starting to ache but then mile 25 appeared and although it went on and on and on, I knew that I was almost finished and ahead of my anticipated time! Knowing this and the crowds at this point (including Maggie Curtis) was amazing and it really spurred me on. I finished strong and on a real high! As per my previous two marathons my Marathon Tourettes kicked in and I couldn't stop shouting, screaming and embarrassingly, swearing!
Maria and I met up further on in the finisher's enclosure, where the screaming shouting and swearing started all over again! We both agreed that it was brilliantly organised. The course was predominantly flat although I do seem to remember about 3 inclines one of which was particularly challenging. The crowds were fantastic and fortunately so was the weather- cold, crisp, no breeze and sunny.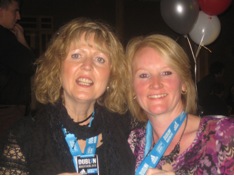 We received a fab medal and long sleeved running top and food and drinks various in the goody bag. We would highly recommend this race to all of you if you're looking for the friendliest Marathon. Now just a small matter of going back to the hotel for a quick rest and to get ready to go to the post marathon celebration party!
Lesley finished in 4:17:17 and Marie in 4:08:03.
The video above shows Marie and Lesley at about the 10k mark giving us all a big wave.