Leonie Clitherow report: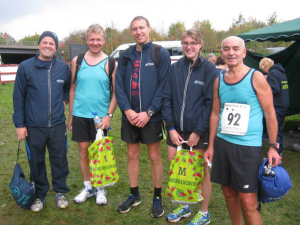 Running a half marathon the week after a marathon is not the best idea, but perhaps I forgot to flip the calendar pages when I signed up the races…or I can blame the fact that the Droitwich Half was rescheduled from March due to flooding. Anyway…
A 12pm start was a new experience for a road race and had a few benefits: a lie in on a Sunday, plenty of time to digest breakfast and more than enough time to drive to the venue without getting lost. However, the downsides were: too much time for pre-race nerves (why I get nervous I do not know), and the serious issue of getting hungry half way around. The race started at a golf club just outside Droitwich, but due to renovations and lack of parking, we were instructed to park in a free car park in town and were then bussed to the start. This worked very nicely and avoided congestion at the race HQ. My mum was visiting as part of her target to run 13 half marathons in a year and we arrived far too early (her fault), which meant time for a warm up walk along the first part of the course.
The race started on time after some completely inaudible pre-race announcements (something about not running through a ford, which was disappointing as I would have liked a little cross-country touch part way through a road race). The route was described as 'undulating', although I would suggest that someone looked the meaning of that word up in the dictionary as it was an incredibly flat course. This meant it was also a very fast race, so I'd definitely recommend to it to anyone on the hunt for a PB. The first mile or so was downhill and super fast. After that we wound along country lanes that all looked more or less the same, but were lovely autumn shades of greens fading into oranges and browns. The ford was located at mile 4ish and to my delight we did get a break from the tarmac for a quick squelch through some mud and over a little bridge.
I was pleased to see the my watch showed a rather respectable 10K time, despite having the stitch from hell from about mile 0.5 to mile 7. After the half-way point the marathon exhaustion in my legs returned and my pace slowed dramatically. I'm a big fan of really steep hills as they give an excuse to have a little walk and break the pace up a bit, so I found the relentless fast pace of this run really difficult. Mile 10 crept by with agonising slowness, and for the final 5km my legs felt like they were running through treacle. However, at the '400m to go' mark I managed to burst of slow-motion sprinting (it was downhill again) and surprised myself by finishing in 1:52:48, possibly one of my faster half marathons (and by far the flattest!). A nice touch at the end was a computer to print out your race times and position: mum found out that she had accidentally won the V50 age category despite "not trying much" (she still beat me by 2 minutes). She won a £10 Boots voucher if anyone in the V50 category feels tempted to enter next year. All race entrants got a free sandwich (great as I was hungry from about mile 8) and a t-shirt, chocolate bar and bottle of water.
There was a sprinkling of teal at the race, and some great results too:
John McKeon: 01:22:51
Richard Rollins: 01:24:07
Stuart Pearson: 01:25:04
Simon Newman: 01:34:09
James Gittins: 01:38:54
Stuart McLeish: 01:39:07
Oliver Crouch: 01:48:50
Leonie Clitherow: 01:52:48
Chris Ankcorn: 02:01:40 (first half marathon!)
Primo Zavoli: 02:13:39
——————————————————-
Report by James Gittins:
This race was rearranged after being washed out in March earlier this year due to the floods.  It was unfortunate that it fell on Conductive race day in Cannon Hill (sorry Martin F), however there was still a good BVH following in Droitwich.
Simon Newman, Primo Zavoli and myself made our way down to Droitwich for the mid day start, we noted straight away that this year there were some changes. The meeting and registration for the race was at the entrance to the drive of the golf course rather than at the Golf Clubhouse itself, where in recent years we have been allowed to use the facilities. Plus the start and finish had been changed with the start at the entrance to the golf club and the finish on the road just outside the entrance rather than the more prestigious finish down the end of the driveway.
The conditions were overcast, with slight drizzle and I was looking forward to running a half marathon for the first time since the BBCHM in July, (ok Bham half but I was walking and running then for charity as you probably have heard).
The race started on the driveway exit and required an immediate sharp left turn, which could have caused problems especially as it was wet and possibly slippery underfoot.
The course is one lap around the scenic countryside of Droitwich and is definitely undulating, the website describes it as fast as well.
I was pleased with my overall performance, averaging 7.34 min mile pace which having consumed a load of left over sweets over the last couple of days from the trick and treat bucket in our house this was good for me.
I went out at a fast pace, under 7 minutes for the first mile and but then kept it at a steady seven and a half for the remainder. I am convinced that Thursday reps and the occasional appearance at Park Run has helped me develop this consistency of pace, as for the remaining 12 miles each of my mile pace was within 7.25mins and 7.47mins. Overall I was pleased with a 1hr 38mins finish, only about 30 seconds off my PB.
The race had a smallish field so it seemed, probably due to the rearranged circumstances, it has its plus points, mainly being local, scenic, challenging plus in the goodie bag there was a free t- shirt (albeit cotton), a choc bar, a bottle of water and a free sarnie!
However there was room for improvement from the organisers, with the negatives being the following: limited loo facilities with lengthy queues, the start and finish could have been better placed with the finish being unclear whether it was on the road or off to the side, cars were driving fast on route, cars were driving up the finishing road, sadly there was no medal as well.
Unusual for me to have a moan about a race, however overall, I enjoyed the run and of course the BVH company.
Congratulations to the BVH members who ran, trust you had a good run.