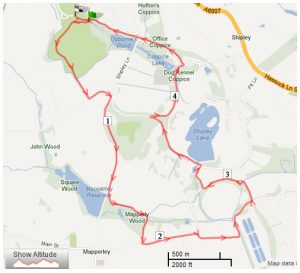 Lesley Pymm reports:  It seemed like a good idea when I entered – summer afternoon, get over to Shipley Country Park early and wonder round with Mike before running the 10 mile course.  Turned out that my quads were totally seized up following the fell race on the Wednesday, Mike not feeling well and anyway, it was raining.  I made my way over there on my own thinking that I would probably only manage the initial 5 miles at a shuffle.  I got there just as a thunder storm had a little flurry, so having got my number, I spotted the massage tent and wondered over there to ask then to have a go at my quads.  It was agony, but I did feel very much better afterwards.
The rain stopped for the children's race and then for the start of the main race.  It is an uphill start on grass and then downhill, still on grass, to a gate and then onto a gravel/shale track followed by a left onto a broken tarmacked surface up to the 1 mile mark..
You have to watch out for the speed bumps and a narrow bridle-gate. A better tarmacked surface leads downhill (and another bridle-gate) before turning left onto a gravel bridleway.  I was running at about the same pace as another woman – and the man she was with kept runnng ahead and calling her on.  It was driving me mad.
Then we followed the track alongside the woods on the right and over two bridges before going uphill on a broad track with sleepers laid in the surface to assist drainage.  It had started to rain by this time and it was very dark in the woods.  The man kept on 'encouraging' the woman near me.
We turned left and onto red shale and gravel tracks with rutted sections for about 1 mile before a left onto the Nutbrook Trail (Drinks Station).
The surface remained fast (tarmacked ) for the next 0.8 miles before a steep uphill section, which had recently been re-surfaced, and then a gentle gravelly downhill (4 miles), some more (flat) tarmac and earth/gravel along a long-disused railway before finishing reaching the cut off/decision point.  The 5 milers were going left and the 10 milers right.
I was feeling good enough to keep going.  I was disappointed to hear that the man was still there calling this poor woman on!  Happily for me he must have pushed her too hard and she slowed down a lot on the second lap.  It was much more peaceful and pleasant for the rest of us after that.  I was pleased when I saw the results that my splits for the two 5 mile sections were pretty even.
There were bits and pieces to eat in the 'goody bag' which were very welcome.  Yet another medal!
A good run which cost £12 – this would be a lot for a 5 miler but reasonable for 10 miles, I thought.  I had offered to donate something for the massage, but this was declined.  I wouldn't have got round without it.