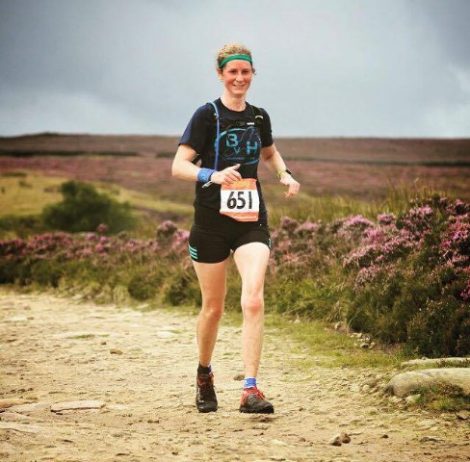 Laura Gale Reports: Obviously motivated by the current BvH Bingo craze I chose this race because surprisingly 12.12 miles is a distance I haven't done before. (and I'm writing a race report – so that's 2 crossed off – can I count it as a PB too?…) It also sounded like my kind of off-road event.
Adam and I had a short weekend away in Sheffield and signed up to the race on the Sunday morning. Event HQ was at Whirlow Hall Farm in a massive barn. It had plenty to browse, including: supplies for sale from a local running shop, frozen coconut yoghurt served in half a coconut shell, lots of straw bales to sit on, a BBQ with meat from the farm, a makeshift bar with local beers and optics screwed to a wooden pallet, and a giant inflatable mammoth. The 12.12-mile event was part of a whole weekend of running. There was a 60-mile and 30 mile race the day before, and we would be setting of with some 10k runners too. There was a huge projector screen in the barn that had showed running related films on the Saturday night.
Race kit included water, long sleeves/trousers, waterproof jacket, compass, whistle and map – but just prior to the race we were told that we only needed to carry a windproof jacket. I had already bought a map for £3, but I love a custom race map so I didn't really mind. After a race briefing, approximately 130 12.12-mile runners and 150 10k runners gathered near the start followed by a casual "off you go then" start.
The 12 or so miles were a joy to run! After a long section of seriously steep steps down through woodland, most of the first half of the race was uphill. We climbed gradually along a rocky sandy track, through pine tress and glorious subtly scented heather. I saw one of those old carved milestones near the top – at one point in the past this rather treacherous and isolated path was the main road to Buxton!
There was lots of sporadic support and brilliant marshals on the route. I had some jelly babies from a tiny supporter who appeared from behind a rock, and there was a cowbell at the half way point! There was plenty of variety underfoot with a few river crossings where you had to hop across on boulders, a few boggy bits and lots of gates and stiles.
At one point I had a great view across to the opposite side of the valley and spotted Adam about a mile ahead of me – appropriately at a point marked 'Fiddler's Elbow' – even though he was small dot I could tell that he was enjoying himself and was perhaps in a good position too.
On a bouldery downhill run/jump bit a man told me that I was 9th woman, and that 8th woman was just around the corner in front of me…. and there I was, blissfully running my own race… Now I was thinking about Team GB and their marginal gains. I might not have had a skin suit, but once she was in sight I tired to take more direct routes that her and lengthen my stride a bit. Back on the sandy track again and I was right behind her! But then she was waiting and holding open a gate for me…. Oh no! She was a nice person!! Anyway, what goes on stays on, right? With about 2 miles to go, and on a short downhill road section I charged past her. Determined to keep this lead I ran my fastest 2 miles of the race and burst across the finish line missing the dibber box!
There were lots of age category prizes and the prizes looked really good – sadly I didn't 'podium' and finished 33rd overall and 5th senior female. Not a bad days work and I got to feed the goats on the farm afterwards too.
It was a challenging race in a beautiful part of the country. Laid back but very well organised and extremely well marked – and not that far away from Birmingham guys! A snooze in the sun on the riverbank at Chatsworth, a quick dip in a moorland bog pool, and scampi, chips and a pint of ale near Leek on the way home.
Adam Hill 1.53 23rd overall
Laura Gale 1.59 33rd overall 5th senior female
http://www.digdeepraces.co.uk/