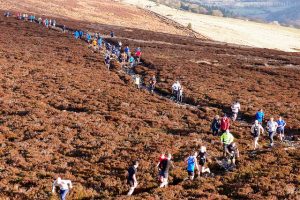 Lesley Pymm reports:  Once again it was over to Stiperstones in Shropshire for the Devil's Chair Dash.  This is one of the things that I love about Christmas and I missed it last year as I had a dreadful cold.  I remember I struggled to get round Perry Hall parkrun (which is pretty flat), there is absolutely no way I could have run up the Stipertsones.  I was really pleased to see that the weather was good as we made our way over there.  Last time I did it (in 2014), Mike had walked it and had been disappointed that he had not really realised what was going on and so had not managed to finish within the hour – that is the challenge.  It is only just over 5k, but hard going.   If it takes more than an hour it is the Devil's Chair Dawdle!
We got there early to get parked and then went and registered.  More and more people were turning up.  It is getting more popular every year.  I went for a bit of a warm up and noticed that there were a lot of walkers setting off already – so they were obviously not registered, just supporting.
At 11.00 we were off and it was a steady climb up.  I found it difficult to pass some of the people in front at times, but was steadily climbing.  Eventually I was on the ridge and soon the fast runners started to come down again.  Usually runners/walkers keep to the left – so that we are not bumping in to each other – but it seemed a bit chaotic this year and you really did have to watch out for runners coming down.  This not helped by the sun shining in my eyes.
I was pleased to reach the Devil's Chair and get the opportunity to turn round, away from the sun. As usual, I was offered a dram on the top, but declined.  There were a lot of people milling around up there, but I got my hand marked and headed off down the ridge again.
After a while, I saw Mike coming up and shouted encouragement to him.  Then it was off the ridge and steep downhill again.  It was along here that I made my poor route choice.  I had noticed on the way up that some walkers had taken a different route to me and seemed to get to the meeting of the two paths ahead of me – so I thought this must be a better way.  Big mistake!  I was probably slowed down on the way up by slower runners and this route may have been better then.  Going down, when we were more spread out, this was not the case.  It seemed to take me ages and I lost places and time.
Anyway, eventually I joined the others and headed back along the track to the finish.  I was just behind someone in my category, so knew that I had not won the lovely pottery mug.  My recorded time was 47.43.
I then jogged back to meet Mike – I knew he wanted to beat the hour and, when I saw him, he didn't have long left.  He was wearing full walking gear and, even so. he managed to  break into a run and finished in 57.12.  He wants to start further forward next year!