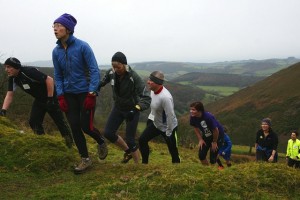 Lesley Pymm reports:  Although it was cold enough to wear a jacket, there was no ice – an improvement on last time I ran it!  It started at 11.00 and the challenge is to get back by noon!  It starts by going up along a rocky track.  Not very far along it there was a mulled wine stand – no, I didn't take any!  At the end of the track we started to climb into open country.  After a while we could see the ridge at the top, but it still seemed a way away.
Gaining the ridge I was running towards the rock formation that is the Devil's Chair but had to keep to the right as the front runners were coming down.  It was not easy running as it was stoney.  Eventually, at the top, my hand was marked to show that I had made it to the top and I was offered a 'wee dram'.  Again I declined – I wanted to get down within the hour!
I had got to the top in 1/2 hour, so knew that getting down should be quicker – all being  well (last time my shoelace snapped on the way down!)  Part way down I passed Mike who was doing the Dawdle (quickly) and gave him a shout.  Getting down was easier as there was more mud on the side that I was running on and it was easier than the stones.
I was able to run quite well towards the bottom and was going well when a child ran across the path in front of me!  As I stopped to avoid her another woman, who I thought was in my category, managed to get past.  I couldn't catch her although I did try very hard.
I finished in about 48.10 – which I was very happy with.  Went and changed into warmer clothes and then grabbed a cup of soup before going back to wait for Mike to come in – it makes a change from him waiting on finish lines for me.  He did it in about 66 minutes.
We joined everyone else for sarnies and beer and then went outside for the presentations.  It was just starting to drizzle as the presentations were done.  I was surprised to find that I was first in my category and I won a lovely pottery mug with Devil's Chair Dash 2014 written on it.
Great event.  It costs a minimum of £2 per person or £5 per family – basically it is donations which go to charity.