From Nicola Cumley: The Lakeland trails are billed as inspiring races in beautiful places. This being our 3rd we can concur with that. I think it is the fell running equivalent of a fun run. Well marshalled and easy to follow courses, with a healthy dose of up hill, and plenty of views. Making it accessible to us urbanites, but still providing a challenge.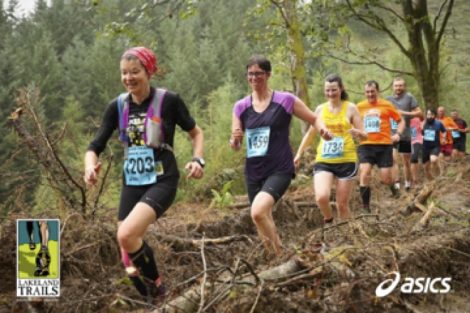 The Derwent water trail race starts in Fitz Park, conveniently across the road from Keswick Youth Hostel where Team Cumley were based – with our wonderful in laws for babysitting and chief supporter duties.
We were very excited! This was Steve's first race since the Lichfield 10k 2011. He even went on a training run on Wednesday night. With 4 days to go he went out and ran up every hill within a 1 mile radius of our house. Then declared himself Lake District ready!
The start area has a great atmosphere. Lots of very hardy athletic looking types warming up. Not to be put off we did a few high knees, some windmills and comforted ourselves that what we might be missing in current form, we can make up with muscle memory (Anthony Stewart and Stacy have both independently mentioned this to me so it must be a thing) Steve was a little concerned that if his muscles remembered the pain involved in some of our previous fell runs they might not want to start!
The local Batala Drummers (Samba Reggae band) set the pace for the race, which started with a lap of a field and then back through the band again. This felt quite significant, like they were beating us out to do war. The route sets out along a disused railway line providing a gentle warm up. However this year, the railway line was inaccessible due to a landslide, so the race was re-routed straight up a hill into the woods along a very muddy felling trail.. Proper good cross country conditions, but on an incline similar to the Leamington mound! My tactic was to find someone who looked like an experienced trail runner, identified by knee high socks, race number pinned to leg and a ruc-sac or bum-bag and follow them. There was definitely a different tactic to road running. Walking up the steepest sections was normal. Shortly before reaching the highest point my legs and resolve wobbled. It became apparent to me that I was in fact, not entirely at my fittest. This became even more apparent on the descent which could only be described as treacherous (to a city dweller, it was steeper than the hill past the beaches, wet and with potential face lacerating rocks sticking out). The Grasmere Gazelles came leaping past me. Whilst I was retying my shoe laces/standing to one side to prevent being mown down by the thundering herds, about 10 people who I had cruised past up hill came past. However, this was the section to enjoy, with amazing views over Derwent water. Despite the drizzle, this was fabulous and so energising. The Jelly Babies kicked in and I re-found my inner fell runner. The down hill then appeared less treacherous and more fun. I regained some confidence and returned back into the park with speed, managing to overtake my pacing group.
I can honestly say I enjoyed every minute and actually found it comical in the places where the going was getting tough. I had absolutely no expectations of myself, which completely took all the pressure off (I can recommend this), my Garmin also stopped after a mile and a half which I think helped.
Steve had an amazing run coming 16th. He also enjoyed it and met his goal of running all the way, no walking up the hills for him! We are already planning when to go back and do another one.