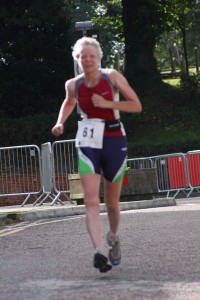 Lesley Pymm reports:  It is some time since I did a tri and somehow, earlier in the year, I decided this was a good idea.  As the date got closer and my swim sessions had been cancelled, I started to question my judgement – but hey-ho, I'd entered it.  My big problem with triathlon is that I am such a poor swimmer that I always get an early start in pool based ones (and have not had the courage to do open-water) – Daventry was no exception.  I  had to be there for a briefing at 7.00 although my start wasn't until 8.26.
This event is run by Rugby Triathlon Club and they really are a very friendly lot.  I had done their events before and enjoyed them.  This was a new venue to me, so I had no idea what the course was like, but I knew the organization would be good.
My swim, which was never going to be fast, was absolutely dreadful.  I have a problem with pools with a high wall at the end of the length and find it difficult to turn.  This pool had high walls at both ends – so I floundered 15 times in the 400m swim.  I was so glad to get out!
It was quite a long run from the pool to transition, but once there I was pretty quick and soon out on my bike.  After the swim, I could now start to relax a bit.  I passed a few people and was passed by a few others.  The 20k course was not too hilly and I enjoyed it.  I knew that they were disqualifying people for not obeying the highway code.  All went well until I got to within 200m of the finish.  I had to do U-turn on a roundabout.  There was a car coming from my right, so I slowed for him.  He slowed for me too – but there was a marshal there and I didn't want to risk it as he obviously had right of way.  I was shouting 'Go on, go on!'  He did, and I got back to transition and off the bike safely.
Then it was off on the run into the country park.  It was a trail course and quite pretty.  At first my legs didn't want to know, but soon they warmed up and I felt quite comfortable.  I was pleased to finish.
I won my age group.  I had quite a long wait until the presentations, so time for a free massage and beans on toast (not free).  I also got all my gear back into the car and had a shower, then sat on the grass and watched other finishing.
In retrospect, I did enjoy it.  My swim was appalling – but I know I can improve on it.  I was pleased with the bike and the run was OK.  Photo attached – sorry no teal triathlon kit!