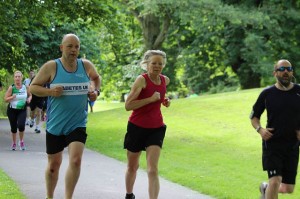 Lesley Pymm reports:  A trip up to North Yorkshire for a wedding meant that there was the opportunity to indulge in a little bit of parkrun tourism – so a quick look on the website and I was really pleased that there is a parkrun in Darlington which was only about 20 minutes away from where my brother lives.
South Park in Darlington is really lovely – there are a number of unusual trees there and it is pleasantly landscaped,  with a bowling green and lake.  There is a pavillion with loos etc., so generally a good place to run.  Everyone was really friendly.  There were some real characters there.  One group of runners had done a 'beer mile' (don't ask!) as part of their warm up as one of them was having a stag do. During the run briefing (which was very funny) they asked if there were any tourists.  There were two of us – myself and a runner from Chesterfield.  We were warmly welcomed.
It was a three lap course and started off slowly – I'll know where to position myself next time so that I can get away properly.  Volunteers were friendly and encouraging.  There were kilometer markers around the course.   About 1/2 way round I was lapped by the leader – it was the guy who was getting married – I wish I could run that well with a gut full of beer.  Well, I wish I could run that well anyway!  My time was not great, but there was a bit  of a hill that we had to do three times!
As I finished there were a few shouts of 'Well done, Birmingham'.  I will certainly go again next time I visit my brother.  Home in good time to eat, shower and get ready for the wedding.