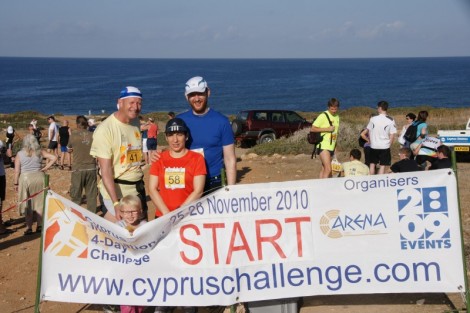 Paul Foot reports: Many old skool BvHers will remember the Dakins and their zest for undertaking and organising all manner of activities. Those of you that do will be pleased that since their move to Cyprus and the arrival of two young girls, this passion continues unabated, as does their ability to persuade others to join them.
As a result Helen and I found ourselves departing last Wednesday from a frost encrusted Doncaster Airport, for the far warmer climes of Coral Bay, Cyrus.
Our bank balances were €175 lighter (ouch) following entry for the Cyprus International Four Day Challenge – a six km time trial, 11km hill race, hilly multi-terrain half marathon, and 10k – on consecutive days. Whilst entry was steep, impeccable organisation by Mike Gratton's 2:09 Events, and finding a cheap package deal softened the blow.
The time trial proved that whilst my waistline has expanded in recent months, Phil Dakin has enjoyed a fitness renaissance, and beat me by a good 2 ½ minutes. (He also completed a half Ironman the weekend before). Even allowing for the extra wind resistance caused by my Movember face furniture, and my lack of acclimatisation to the heat, this was not a good start.
The trend continued during the hill race the following day – a testing 600m climb on the dirt roads of the arid and scenic Akamas peninsula, with no shade in 24 degree heat, and the half marathon – a 300m climb for the first 9km, followed by a 9km 600m descent on a concrete road and a final 3km on the flat with jelly legs (in 26 degree heat!). In these two races I also had the ignominy of being passed and beaten convincingly by the leading FV65!
Only in the 10k around Paphos did I salvage some pride by only being beaten by Phil by a mere 1 and a half minutes.
Helen put in a much more convincing display coming in as fifth in her category, and using her trademark sprint finish to great effect. Watch out ladies in this weekend's cross country!
Although Ange Dakin was support crew for the challenge, she managed a cheeky ½ marathon of her own on Sunday after our 10k, and romped home third in category to acquire some impressive silverware.
All in all, this event is to be recommended for all Harriers looking for a fun way to escape the winter blues for some warm weather training.
| | | | | | | | | |
| --- | --- | --- | --- | --- | --- | --- | --- | --- |
| Name | Cat | Time Trial | Hill Climb | Half Marathon | 10km | pos | Total Time | cat pos |
| Philip Dakin | M40 | 00:26:04 | 01:11:55 | 01:53:07 | 00:48:26 | 69 | 04:19:32 | 14 |
| Paul Foot | M | 00:28:26 | 01:18:48 | 02:03:28 | 00:50:14 | 98 | 04:40:56 | 41 |
| Helen Foot | F35 | 00:30:05 | 01:27:36 | 02:15:03 | 00:55:27 | 132 | 05:08:11 | 5 |