Crowle Gunpowder Plot 10k
Crowle, Worcestershire
11th May 2014
Stuart Mugridge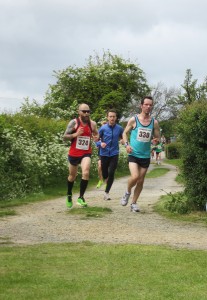 This year I'm trying to enter as many races as possible with 'row' in the middle of the place name! At Easter I ran in the Trowse 10k in Norwich recording a PB of 41:26 (and 43rd place) in chilly conditions. I had a good chat with an old friend of the Harriers, Cat Ricketts, who came in just behind me (41:38 and 46th).
This weekend we had a family outing to Crowle for their Gunpowder Plot 10k. I'd looked at results for the race and not noticed any BVHers taking part in recent years so I was pleasantly surprised to see a modest-sized puddle of teal on the day.
My children had a go at the short fun run (400m) and got medals and goody bags for their efforts. There is also a 1600m option for under-16s. This is definitely a well-organised event that caters to families with other children's activities and a BBQ.
The course is a lollipop sort of shape through pleasant undulating countryside on closed roads and is potentially quickish but this year the gusting westerly wind put paid to many ambitions I think. The sun did glimmer through a little though. With a 500m out and back stretch at midway point I was able to appreciate the style and grace of Dean Parker running strongly way up the field in second place and then Stuart Pearson and Matt Slater a little closer to me as they returned along the out and back. I didn't manage to spot Laura Leslie though – I think I was seeing stars at this point… I battled round in 41:09 (and 52nd place) for another PB (I'm still not troubling that magic 40 minutes though!).
I don't get to many club events/evenings so it was nice to have a chat with the other Harriers at the finish. We were also a little surprised (given the wind) to discover that three of us (I think) had recorded PBs! The winner, Yousef Al-Lathaa, from the Birchfield stable came in at 33:33. Selected results:
2nd      Dean Parker            33:58
25th     Stuart Pearson         38:55
38th     Matt Slater              40:07 – PB!
52nd    Stuart Mugridge      41:09 – PB!
82nd    Laura Leslie             42:47 – PB!
Full results here: http://www.crowle-online.co.uk/roadrace/2014Results.pdf