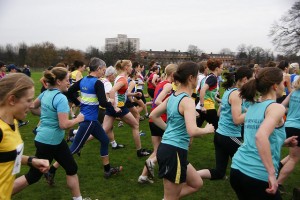 The first cross country race for Bournville Harriers will be on Saturday 30th October at Newbold Comyn in Leamington Spa for both the Men's and Ladies teams.

The event will incorporate races for the Birmingham & District Men's Cross Country League and the Midland Women's League. The BvH Men are in division 2 (following their relegation last season) but have set their sights on promotion back into division 1. The Ladies race is a single league event.
The Men's race will be the combination of all 3 league divisions with 54 Midland clubs which will be an amazing spectacle as almost 1000 runners charge across the parkland.
The last time we raced at this course was the Warwickshire Cross Country Championship in January 2009 – pictures here, and the Birmingham League in December 2008 – pictures here
The course is probably best described as relatively flat but with a single 'big hill' (Beacon Hill) on each lap.
If you are interested in running for Bournville Harriers at this event or would like to know more information, please contact either Rob Andrew (Men's XC team captain) or Sarah Rock (Ladies team captain).
Both Rob and Sarah would welcome members to race but also would like to see members and friends and family come and support the club.
Further details can be found on the Birmingham League website here including location, course and history of the league.
Come and run or support us at Leamington Spa on the 30th October