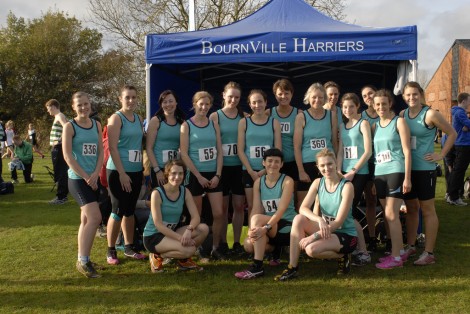 Nicola Cumley reports: First league race of the season and the girls had new spikes. Emily and Michaela were sporting this seasons latest colours. At the other end of the spectrum spikes were coming out of bags that had been closed since they were zipped shut last march.
The tent was full of enthusiasm; with so many members competing it was a great atmosphere. Reports were coming in that the ditch/water feature, which I'm sure was on all our minds last night as we listened to the rain beating down, was dry! Happy days.
16 excited Bournville women lined up at the start line.
Off we went… The support was fantastic, there was a cheer on every corner, and all brilliant encouraging support . Thank you to everyone who was there. I personally really like the Leamington course. There is something for everyone, a wooded section, some fast flat hard ground, a small mound!!!!!!, a ditch and flat fields.
The dreaded mound did not disappoint, especially second time around, it hurt, it hurt a lot (I hope it was not just me that found that), how the men do it three times I really don't know? I think the only slight downside on the course is that it can get a little crowded in narrow bits and some parts are hard to overtake on. I found the last section very tough, it was almost like my body had decided it had run far enough and on meeting with Garmin carrying runners at the end it turns out my body was right, the race was actually almost 1k longer than we normally run.
16 Bournville women crossed the finish line still looking strong and cool, maybe a little less excited.
Our results range from 39th, an excellent performance by Linda, 66th from Kathryn Holliday only her second outing in spikes, Sarah averaging 7.5min miles to come 117th, a fantastic competitive finish from Julie and Emily in 129th and 130th.
This year we hope to get a vets team out, four vets competed including Lesley Pymm on her second run of the day in 220th (I was eavesdropping in the toilet queue and it seems that she may have done the park run this morning as well) and Lesley Bryne putting in a strong performance after a few years off cross country. Watching the finish it was a constant stream of teal vests coming in across the whole field.
The mens race was brilliant, there was so many BvH and looking so strong. Once again a day to be very proud to be a Bournville Harrier. On my way to the race I got chatting to a member of another club. When I said I was from Bournville she commented that the club had a good reputation, our profile in the region is obviously high and on a day like today rightly so.
Thanks to Sarah for organising us all and for the fabulous goodie bags.
BvH positions – official results to follow.