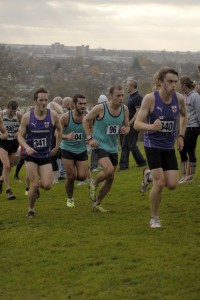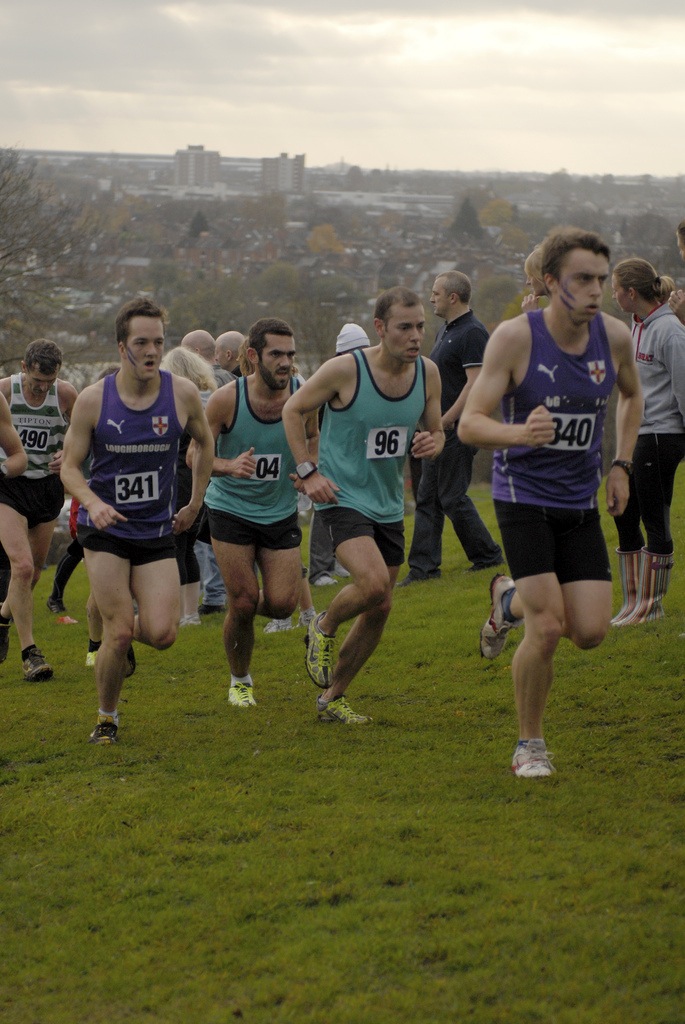 Rob Andrew reports: Bournville Harriers made a fantastic return to Division 1 of the Birmingham and District Cross Country League last Saturday, finishing 7th in the 'A' team event, and 6th in the 'B' team.
The club has made significant progress in the last two years since our last appearance in Division 1 in 2009, and has been boosted by the addition of a number of new recruits in the last few months. Mention of individual performances will follow, but firstly let's put the performance of Saturday into context
In 2009 we had 2 runners place in the top 100, our 6th place runner finished 150th , with an overall 'A' team score of 651 points, placing 14th out of 16. This year we had 8 runners finish in the top 100, our 6th place runner 76th , and an overall 'A' team score of 351 points finishing 7th. This year's 'B' team 6th counter was 167th and the team's score was only 100 points behind the 2009 'A' team score.
In 2010 we had 24 runners turn out for the whole season, but only 11 in the first race meaning we did not complete a 'B' team. This year we had 25 runners turn out for this first race alone, with a number of others already planning to compete in later races
Therefore real strength in depth making this a fantastic start to the season, and one which provides a great platform to build on in future races. Not only was this an outstanding 'team' performance, but was matched by the usual great turnout of supporters from the club. There were very few places around the 2 mile circuit where there was no vocal support from the club's supporters, including from the ladies whose race had finished just prior to the men's event. Either there was a lot there, or those that were there must have run all over the course to provide that level of encouragement that was hugely appreciated by the team.
On to the race and special mention must go to Gary Blackman, Paul Thompson, Orlando Corea and Matt Cook all making their club debuts in the league and scoring for the 'A' team. Referred to as the 'fab four' by Joe Lewis, they were spearheaded by Gary who got up with the front runners early on and finished in a highly creditable 34th position – by far the best yet by a Bournville Harrier in Division 1. He was followed home in second position in the team by Paul Thompson who despite a tiring overseas trip prior to the race still had enough in the tank to come past me in the final run-in to finish an excellent 46th.
Orlando and Matt finished 4th and 6th respectively in the 70's with what were excellent debuts to cross country running. I'm convinced that they will be finishing even higher than this in future races as they get used to the different style of racing on the country. Dean, although not fully fit, still had to perform well to score 5th for the team, evidenced by Gareth and Chris Collins finishing creditably inside the top 90 but being pushed back into the 'B' team. They were well supported by stalwarts Sean and Stuart Pearson with debut boys Rich Bayliss (fresh from his Continuing Education 10k victory), and Brad Tod completing the 'B' team.
Andy Wheeler, Danny Wilson and Simeon all placed within the top 200 and should be putting pressure on those in the 'B' team next time out. They were joined by Matt Slater, Chris Harlan-Marks and Jack Roberts in the unofficial 'C' team. The 'D' team comprised club favourites Ed Hartley, the inseparable Paul Dugmore and Terry Doherty, and Paul Gorman – with Andy Hoole and Mark Doudican being two others to make their cross country debuts.
Finally Mick James performed the classic coaching role of 'sweeper' to make sure no-one got lost out on the course and showed real determination in completing his first BvH cross country race.
Well done to him and to all who raced, or supported the men's and ladies teams and generally contributed to a great club day out. Special thanks to Mel and Steve James who helped out with handing out numbers and submitting the team declaration to enable me to get warmed up for the race. Mel missed watching part of the ladies race until she was sure all the men had been allocated their numbers, and so in future could everyone make an effort to turn up by 1:30 and collect their race numbers freeing up others to then prepare to watch or take part in the race(s), especially when the men and ladies race at the same venue.
So a great start to the season and day out for the club. It is to be hoped that the influx of new runners and the increased level of performance that goes with it will inspire all of us to train harder and meet the standards set on Saturday and the challenge of getting into the scoring teams. Or to simply improve our own level of running. This was epitomised for me by Stuart Pearson who having trained well in recent months ran 3 minutes faster this year compared to last over what was virtually the same course. Well done to all and just a reminder that it all starts again tonight with the Monday night run and the next race in 3 weeks time.
Full results (PDF).