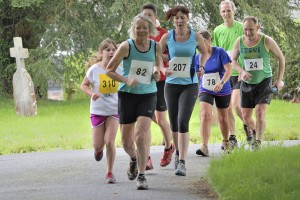 Lesley Pymm reports:  This Bank Holiday saw us going over to Herefordshire to have a go at the Crocodile 8 (which turned out to be closer to 9 miles).  It was a 3.00 start, which suited Mike as he is not good at getting up in the morning!  The weather on Saturday had been really wet, so I was not raising my hopes too much for Sunday.  As we drove down the M5, however, the weather did not seem too bad – certainly better than the day before.
Parking was on a field next to a pub where they have the presentations and post-race party – as it does not start until 6.00 we had already decided not to stay for that.    I walked up to the school and collected my number – it was one of those with electronic chip timing on the number.  There were children's games going on, refreshments and a map of the course and course profile – Mike pointed to it and said: 'Have you seen that?' – I had already seen it on-line and knew about the climbing.  What I was more worried about was the steps.  There are 105 steps to climb up the crocodile's back; this did worry me as I have trouble with steps – poor old arthritic knees!!
The run started on road and we ran about 3/4mile through the village before coming to a halt in the churchyard.  There was a queue for the first kissing gate which every one was aware of and took in good spirit.  We were enetertained  by a couple of musicians in the church porch.  It was whilst I was standing in the queue that I remembered I had not put my contact lenses in!  Eventually off we went over a field.  Coming out the other end there was a bit more road before we started running through the orchards.  This was pleasant running.
Then it was off road and over more fields with lots of stiles.  I did OK until the final stile and I just couldn't get my leg over and had to ask the runner behind for assistance.  It was at about this point that it started to rain heavily – just as we entered the woods and started the climb!  At least we were sheltered from the worst of  it.  The rain the day before had done the damage though.  There was so much mud everywhere.  I started to climb and then got to the first few steps – they were not too bad.  A bit more muddy running and then the main load of steps loomed ahead.  To be honest – the steps were not too bad.  In fact it was so slippery that they probably made it easier.  I was hurling myself up hanging on to the railings where they existed and at times I had to hold on to the steps.  That mile took me nearly 18 minutes!!
Eventually I was on the top and running through the woods.  Of course, without my lenses in I had to take it very steadily here as I could not see the tree roots very well in the gloom.  Although the steps and the main climb was over, there was still more hard running to come!  I had been warned about a 'gully' and had visulised this being something I had to run over – but when I got to it I realised that we ran along it.  It was so muddy and gloopy.  Then towards the end it turned into knee deep muddy water which washed a lot of the mud off anyway.
Eventually I was running over fields again.  There were some drummers beating out a beat on the last hard climb.  Running over a flat field I overtook a young woman who was having real trouble going in a straight line as she had the wrong shoes on – no grip at all.  She did pass me later when it go less muddy underfoot.
The last mile was on road.  I had to stop and tie my shoelace again as it had come undone in all the water.
Back at race HQ I picked up a Mars Bar, orange, water and energy bar.  There were T shirts – but my size had all gone.  I did not really need another T shirt but was not very happy as I had pre-entered and said what size I needed.  I do think that late entries should be the ones to miss out on T shirts.  Other than that – great event.  Good cakes afterwards.