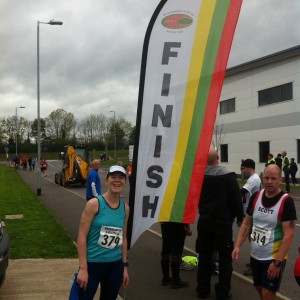 Back in January with the 2013 Turkey Trot fresh in my memory (good race, no vegetarian option available(!)), I entered Wolves & Bilston AC's Four Seasons race series. I'm over in Wolverhampton quite often as it's my hometown and there was a discounted entry fee for all four races. The March Hair Raiser begins the series, followed by the Summer 6, the Coven Canter and finally the Turkey Trot. Unfortunately I missed the first two races as I was injured for the first and busy for the second, so when we were invited to a 70s themed party back home on the Friday before the Coven Canter I decided "this is it" at least I can make it make it two out of four!
The eagle-eyed amongst you will notice that following my 70s night on Friday I've had a few of the hits of the era stuck in my head. How many can you spot in this race report? Don't phone in it's just for fun…
After a quiet Saturday night, Sunday morning was time for the race and registration took place in Fordhouses Cricket Club, with the start of the race just a short walk up the road at the i54 site where Jaguar Land Rover have a new facility. Although billed as multi-terrain, the majority of the route was on road and footpaths, with just a short muddy section after a mile or so. Conditions were pretty good; although it was a windy day the route was quite well sheltered and I thought to myself "I'm glad there ain't no sunshine today". As the only representative of BvH I was all by myself but got chatting to a couple of other runners before the race got underway. There was a good turnout from Wolves & Bilston as you'd expect with a few other clubs such as Sneyd, Sphinx and Telford also well-represented and even a chap who was over from Cork (representing Carrigaline Runners), who kindly took my photograph at the finish line for this race report.
We got underway at 10am (although the start time felt like a late one with the clocks changing that day). Just over 100 runners took part, which seemed like a very small field after the previous week's Great Birmingham Run. Even so it seemed sensible to get off to a decent start; I knew that the early part of the run would be along footpaths so it might be difficult to pass other runners and I didn't want to get stuck in the middle. I think everyone had the same idea though – I was surprised by what felt like a sprint from the start!
The first part was more industrial than picturesque as there seemed to still be a fair amount of construction having just finished around the route, but we soon moved onto a stretch of trails going out toward Coven itself. We shared the route with the occasional dog-walker and a horse with no name, but otherwise it was quiet.
The course was well signposted and the marshals were very encouraging. I was aware of a lady from Market Drayton just behind me for the first couple of miles and one of the marshals said "work together", which we did, closing the gap on the two runners ahead of us and eventually passing one of them. I thought about how that is the case in races, that we're competing against each other but also helping each other to achieve better times.
I hadn't looked at my watch until the three-mile marker but I had a slight stitch and checked the time which was just a little off my 5k PB; I thought "perhaps I've gone off too quick but I will survive" and in hindsight it had been slightly downhill and was just about to go back up again. The second half was uphill but not too steep; along the main road and pretty uneventful. My "friend" from Market Drayton passed me after about four miles but I caught her on the hill and closed the gap ahead of me. I couldn't do much more than hold my position after that… With all the dancing on Friday night I blame it on the boogie.
Back downhill for the last half mile and relieved to be right back where we started from, knowing my time was fairly respectable (and actually my second fastest 10k time), I was pleased to finish in 50:31 and collect a technical t-shirt at the end.
We returned to the cricket club for the presentations; there was free tea and coffee but it's a shame there was no cake (there was a bar but unfortunately I was driving). Prizes were awarded to the first three ladies and gents as well as age category prizes, disproving the theory that the winner takes it all. The majority of prizes went to Wolves & Bilston including a 1-2-3 for their ladies and the leader of the pack for the men. I wouldn't describe it as an easy course as such, but the number of PBs and SBs show its potential for good times with the right conditions on the day.