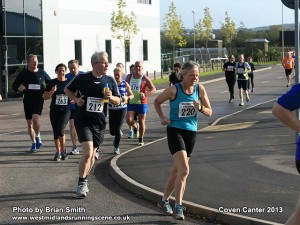 Lesley Pymm reports:  I was supposed to be going away on a cycling weekend, but life conspired against that and I was looking round for a run to do.  I had done the Goodrich 10k some years ago, which was supposed to be a similar course, and got a decent time there – so I thought I would give it a go.  It turned out that part of the race was off road, but the vast majority was on road. I decided to wear an oldish pair of road shoes with decent grip!
The weather leading up to the event was wet and windy (probably not the best weather for cycling, so maybe I had the best option).  A day or so beforehand there was an e-mail to say that the race was being run in reverse for safety reasons.  This was not a problem to me as I didn't really have a clue where I was going anyway.  This meant that the off road bit was at the beginning, not the end.
The race started on a business park with a short loop, then we were off along the road and then turned back on ourselves to go onto a footpath behind some trees near the start, so we got some encouragement from people who were still hanging around the start/finish area.  This was a really odd section as we seemed to be running through another industrial area that was not yet completed.  Marshals had to warn us to beware as there were slabs on concrete that were not yet attached to the rest of the path, raised manhole covers etc.  We ran over the M54 on a bridge!  After a while we had to go into a field as the footpath was impassable.
Then it was all road.  I did start to recognise bits of it from the Goodrich 10k.  I particularly recognised the uphill section which I had enjoyed last time I ran it.  This time it was a mile or so into a head wind, so not great.  As I got to the top the wind seemed to come in gusts and I swear I went backwards.  Anyway, it was the same for everyone!  Eventually got over onto more sheltered roads and suddenly was coming into the finish.  It had just started to drizzle at this time, so I finished as quickly as I could and  hurried back to race HQ about half a mile away as the rain really started to come down.  I felt sorry for those who were still out.
By the time I had showered, the sun was out again and it was into the bar for the presentations.
A decent run, friendly with good facilities.