Lesley Pymm reports:  It was some years since I had last run this event and I was looking forward to it.  I was a bit worried about the dreaded knee and whether it would hold out or not, but decided to just take each day/event as it comes and, if I have to drop out – so be it.  The 1/2M, the final event, is two laps – so I could stop at half way if necessary.  This is a lovely event which takes place on the Colworth Estate (part of Unilever) at Sharnbrook near  Bedford.  There is free camping and a real ale bar, so I knew it would be a good weekend even if I was not able to run all of it.  In the bar area there is a fridge where we can help ourselves to Lipton's Ice Tea (free) and ice cream that you make a donation for.
The first event is a 5 mile trail race.  This is always very popular with local runners and they do not take entries on the night anymore as we would never get started if they did.  I started off slowly (my plan for all 3 stages) and things seemed OK.  It was a warm evening, but not too bad.  The ground was soft in the wooded sections, so kind on the joints.  It starts off on the playing field and then heads out onto the road before going off into woodland and fields.  I was feeling pretty good, so started to speed up as I got further into it.  I love the last couple of miles which are mainly woodland.  I was pleased to finish in 50.33 and pain free!  There was a medal for this event.
There was a BBQ that evening with veggie sausages and then we sampled some of the brews from Oakham Brewery – well, Mike sampled more than me!  It was a little noisey on the campsite that evening – mainly people who were only running the one event and did not need to rest for the next day.  I was hopeful that they would not be around the next evening.
Saturday lunchtime saw a lower number of us toeing the line for the 8.1 mile cross country race.  This started off on the playing field again and then we went out and onto the perimeter of a field to run around the set aside for a while before coming back out to cross the road and head off down Yelnow Lane and then around another field.  This was good running.  It was a warm day and I was pleased that it was drizzling a bit as that did cool it down.  The route had been changed for the first time this year and I was interested to see how different it was.  This had always been my favourite of the three events, but there is an out an back bit that can get a bit dodgy as runners try to pass in different directions.
I got onto that section and was pleased to see that it was pretty dry – I have done it in ankle deep mud.  There were, however, deep ruts that had dried out and were a bit awkward to negotiate in places.  A couple of really fast runners came by in the other direction and shouted encouragement (it's that sort of event!) and I wondered where the new bit comes in.  A while later I saw the guy who was coming third, but then I did not see anyone for ages.  As I got closer to the turn around point I saw that there were runners coming towards me, but being directed off that path and onto another one.  I got to the turn around and came back and then onto the new route.  It was lovely running through the woods.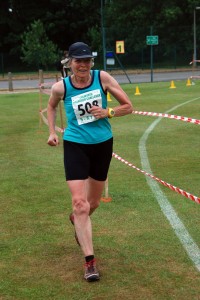 Eventually I came out of the woods and ran along the lane I had been on earlier for a short time before going off and onto a trail. I then ran through a field and uphill to the lane near to the start/finish area.  I had speeded up in the second half and was passing other runners.  I was enjoying it, but was very warm and looked forward to getting a shower!  I finished in 1.33.21 which I was happy with.  I was handed my event shoebag which was going to be very useful.
We went out for the afternoon, and it rained very heavily.  Good chance to see how the newish tent copes in rain!  We also had a meal out that evening and then back to the bar so that Mike could try out another of the brews he had not yet had.  The campsite was much quieter that evening.  There was a bit of music coming from Santa Pod but not enough to disturb us.  The knee was OK so I knew I was going to at least start the 1/2M.
Sunday morning was fine.  The air was clearer than the previous day.  The rain had done its job!  It was warm but not hot, and it was breezy  – I have done this event when it has been very hot and it not pleasant getting round all that set aside with the sun scorching the crop and you!  Around the site there were people talking about the 'hard core' who were running today!  I didn't feel particularly 'hard core', but just hoped to be able to get round.
Off we went, again on the road out on the 5 mile course before turning off and started to go through fields and then around the set aside.  Getting closer to Santa Pod you could hear the noise of the dragsters, I knew that later on I would be able to smell it as well.  The ground was very uneven on the field near to Santa Pod and my knee was getting pulled a bit.  I decided to slow down a bit and take it very easy.  We ran along a track and then turned onto the perimeter of what I always call the 'never ending field'.  It is over a mile around this field and we don't go all the way round.  When we came off the field we were in woodland on the 5 mile course again.  I love this bit and it was so cool in the shade.
We ran over a couple of bridges and then I had forgotten that we don't have to go up the hill as we do on the shorter race.  We went up a slope and then into more woods.  This took us on the last mile of the loop through woods and then around the playing field and out again for the second lap.  I was feeling so good.  I was surprised.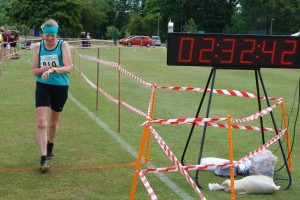 Again, I tried to speed up a bit on the second half, although I was very careful on the rough section by Santa Pod.  In the end it was pretty even splits, so I was happy with that.  My half marathon time was 2.32.43.  The memento for this stage was a mug.
My total Marathon time was 4.56.37 which I was pleased with.  My marathon days may be over, but at least I can manage stage marathons still.  For the whole challenge I got a slate coaster.
A brilliant event, and great for clubs to do together.  There are team prizes as well as individual.