Mark Cooper reports: Despite the previous day being the coldest of the year so far and with the promise of rainfall throughout the morning, 3 fearless Harriers (myself, Lesley Pymm and Becky Lesniak) decided to brave the elements and take part in the Cinder Path 10k at Sutton Park.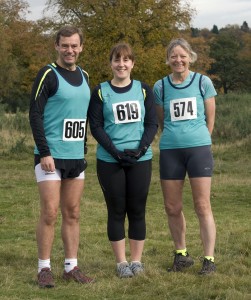 Actually, braving the elements was not the biggest risk on the day, as competitors arriving at Sutton Park were greeted by a number of signs reminding them of the recent e-coli outbreak and the ongoing risk of infection.
This probably contributed to the fewer entries this year, with 197 completing the course on Sunday as against 274 in 2011, although the recent rains, the opportunity to jump over fallen trees and plough through very muddy woodland trails might have put off all but the hardened runners out there!
It's quite a tough course, with Sutton Park being more undulating than you realise once you start running through it, and with some parts very similar to a quite challenging cross country course.
There are a couple of nice surprises along the way – at approx 5k there is a quite sharp turn and a very tough, steep (albeit short) climb that catches many unawares, but the best is saved to the last – when you appear from woodland to be greeted by another steep hill to the finish line, which gives you an opportunity to really test your sprint finish over the last 100 metres!
Despite being a regular visitor to Sutton park, I learned that it was Lesley's first time competing in the Cinder Path run, and a special mention to Becky, who after joining the club through the Beginners Group earlier this year, has now completed this race and her very first half marathon in Birmingham a couple of weeks ago – well done Becky!
The race is well organised with well positioned and very supportive marshalls throughout the course and plenty of spectators to give a warm welcome to everyone sprinting up that final hill! The race was won in a time of 34:32, with Lesley in 128th place in 56:09, Becky in 164th out of 197 in 1:01:12. As for me – 66th position in 48:40 was an improvement of 22 places and 49 seconds on last year, so going in the right direction!
The course has a little bit of everything, so I would recommend it to anyone fancying a pre-cross country or a post-marathon/half-marathon workout, although every year I do keep saying "that was tough, not doing that one again!"…