Mike Scotney reports: I'm learning that the marathon is less of a race, more of a journey. It's a run like that of no other (although I can't comment on ultras), and you have to pay it the ultimate respect.
Just when you feel in the most control, it can turn this an instance, and in equal measures it reminds you why you run and why the distance is slightly insane!
This particular journey started early with a 5am alarm call. Quick breakfast, check of the kit and a straight run up the motorway in the pre-dawn hours. I arrived in plenty of time and felt reasonably prepared. I would give my pre-race training an 8/10, a few 20 milers under the belt and with the prospect of ideal running conditions on the day. Everyone convened at Chester RaceCourse and there was a field of 4000 marathon runners.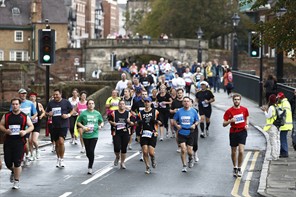 The town cryer set us off with his 'Oh Yeas', and for the first half mile we simulated the Gee Gee's, running along the track rails. The race then went around Chester City Centre, taking in the historic landmarks before heading south into Wales and out onto closed rural roads for pretty much the remainder of the race. I was feeling good, clocking consistent 7.30 miles and went through the first 10km in 46 mins.
It was a very similar course initially to Stratford (for those who know it), undulating but never too challenging, as we went through the pretty villages of Eccleston, Lavister and Holt. Although it was a big field it never had the trappings of a big city marathon, runners were quickly dispersed and the locals on route were very encouraging but not over bearing. I was trying to follow best practice throughout; taking water at each 3 mile station (little and often) and a gel at every 5 miles, and felt really good at the turn – going through the first half in 1hr 40mins.
We then turned north for a very long drag back to Chester. The route became a little hillier and it was starting to get a little warmer (the predicted rains never materialised) but I was still focussed on keeping a rough 7.40 pace, for as long as possible. As we followed the River Dee back a good number of runners were beginning to suffer from 18 miles but I was still coping, turning 20 miles in 2hrs 34mins.
Despite the water and gels, at about 22 miles the suffering began with no real warning. I guess I'd exhausted my glycogen levels, and it was a case of re-evaluating expectations. I decided on a strategy of run / walk. I walked (striding) to the count of 50, and then ran the same. Ironically, as many runners passed on the walking sections, I tended to then overtake them again on the runs. This strategy seemed to work although I suspect my 50 counts walking were getting longer and longer, and I was a little frustrated having to revert to a Plan B.
At 24 miles we headed back into to Chester and for what seemed to be an eternity, we then ran by the river and back into the RaceCourse. There was great vocal support at the end from the Paddocks but like a dead horse I felt flogged. I looked at the watch – a last burst would have ensured a sub 3.30, but for what would seem a reasonable proposition at the start seemed far less important at the finish, and I was happy to stroll over the line.
Afterwards, we were rewarded with a lovely technical T-Shirt and medal (I'm realising that all the big races use the same medal company!) and a goody bag comprising of Haribo, love hearts and a Mars Bar – all gleefully scoffed. I then put on the compression tights and drove home, avoiding cramping.
To sum up, was I pleased with 3.30? Yes. Not quite a PB but an 8/10 effort, which reflected the training. Would I recommend Chester? Definately yes. Will I do another marathon? At mile 22 and immediately after finishing – definately not. The morning after the day before and not feeling too sore, probably! The marathon asks a lot of questions, and this being my fifth marathon I 'm just starting to learn that you can't beat yourself up if you need to change your expectations on course and there really is a sense of achievement on completion.
Just looking around at the end, the relief and joy, it was hammered home – it's a very personal journey, one to be treated with care and respect but one likely to lead to a commitment to long-distance running once you get 'The Bug'!
Time: 3.30.12 (official splits 1.40.29 / 1.49.44)