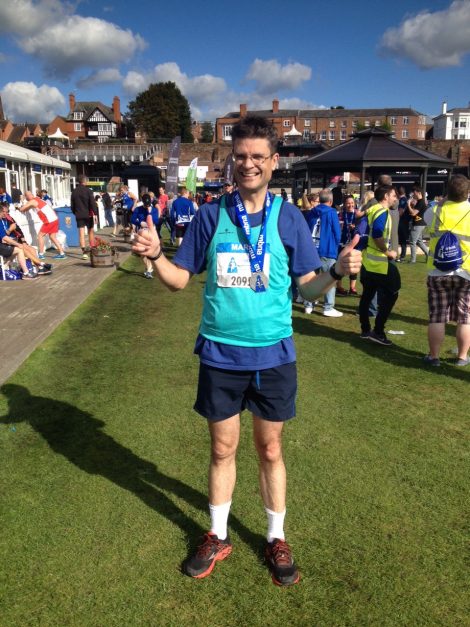 Mark Witheridge Reports: The long-awaited day finally arrived for my first marathon (and it so happens was Dan Harvey's and Adrian Fowler's first as well, but Katie Thomas's 44th). I had always wanted to do one. There was an atmospheric mist settled over the racecourse where the start and finish were located and it was cool – a perfect start.
Dan found me at the start and we compared notes about our race plans. Mine was – just finish! I had run a few 15s, 18 and a 20 so was fairly ok about it all, just a little nervous. After a lap of the racecourse then a tour of the city lined with lots of encouragement we were off into the countryside to the south. Very scenic, got chatting to Alan who was a local but never run a marathon before and expected a similar time as me – somewhere around 4.30 to 4.45.
First 10-15 miles were fine – a nice steady pace, fairly flat, great scenery, getting warmer with sun shining and lots of people to chat to if you wanted. I kept just ahead of the 4.30 pacers holding up their flags as it was very bunched up just behind them (there were pacers for every 15 min from 3hrs to 5 hrs and they all did a fantastic job although one admitted it was really difficult to run slowly and he had to concentrate a lot!).
However to keep going now I was putting more effort in and it began to tell at about 18 miles as my pace slowed and continued to slow after 20 when it was a run/walk strategy. And there were more hills somewhere around 20-23 which just felt huge. The 4.45 pacer passed me just as I was back in Chester and after a brief flurry I resorted to my crawl.
Then Katie came skipping past encouraging others and me to keep going. I managed to run for a bit and it was great to see my wife and son near the end to give me a welcome boost.
Crossing the line was great in 4.52 – an emotional experience – so glad I have done it.
Sorry I didn't get to say hi to Adrian.
My final impressions are – a great run, very well organised, really friendly, pacers were excellent. Not sure I will do another – let's wait and see!
Results – chip times
Adrian Fowler 3.42.19
Dan Harvey 4.15.03
Katie Thomas 4.45.29
Mark Witheridge 4.52.00