Lesley Pymm repo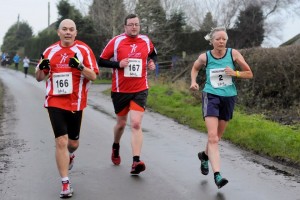 rts:  It had been 5 years since I last ran this race, but remembered it as being a friendly, well orgainised event – with excellent cakes!!!  It lived up to expectations.
This is a three lap road race, so not my obvious choice of event.  It starts at the school in the village of Cheddleton near Leek.  Runners are immediately going up hill – a long hill.  Part way up I could hear the piper and remembered that there is frequently a piper at the top of this hill.  Many of us were applauding him as we ran past, then it was undulating for a while.  We then turned a corner close to a field of llamas  and there was a bit more climbing before we had the steep downhill and back to the start.
Just twice more then!  I was lapped by a few runners.  There were quite a few members of the public on the roadside shouting us on.
My time was about 5 minutes better than last time I did it – retirement is obviously suiting me.  I collected my Christmas pudding and headed into the school to get hot chocolate and cakes.  There were also cakes to buy.
We waited to support the prize giving.  There were a lot of prizes given out.  These were all donated. Apparently last years event raised £6K for Cancer Research and they are sure that this year will do better.  A good event to support.