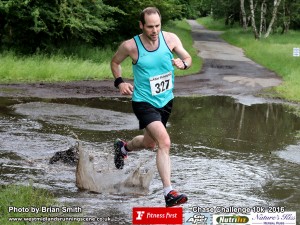 Dave Powner Reports: Two days before the race, we were emailed to be told that the car park was flooded, but the race would go ahead, and they had arranged for us to use the Cannock Chase Rangers compound.
450 runners had registered for this race, but as we filled up the start zone, listening to the organisers' warnings of steep climbs and drops, uneven paths and single file sections, you could see a large number of uncollected chips and race numbers sitting on the table still awaiting collection, destined to be shut back in the box without being carried around the picturesque surroundings.
We set off bang on time, along a smooth tarmac track to start with. After 1km, we left this track to head into the woods, down a steep, uneven man-made track in ankle-breaking condition. I had greater confidence than my neighbours, and made around 20 places as I hurtled downhill for two minutes or so.
At the bottom of the hill, we were unsurprisingly greeted with an uphill section, along which I lost a handful places. This up and down pattern continued for the entirety of the race, apart from 1 flat kilometre about three quarters of the way through. The route turned in and out as much as it went up and down; you were never further than 1km from the centre of it all, and could hear the finish-line commentator from a couple of turning points. Not all of these numerous turns were marshalled, although all were very well signposted and taped. The terrain varied throughout, including the aforementioned tarmac and man-made track, plus concrete, grass, mud, and woodland. Given the dangerous terrain, it may have been good to have more turns marshalled, although those present did their job very well.
I felt strong as I finished with a quick final kilometre, although when I stopped, I soon noticed how much my ankles were feeling the strain. A kid was on hand with a number of stools for us to stick our feet on, so they could remove the chip from our ankles.
The goody bag included an excellent medal, a pencil, a Rocky biscuit, a banana and a bottle of water, plus some money off vouchers. A little machine was available for us to print out our official finishing times.
I was very pleased with my position, and it's great race with a friendly atmosphere, that my uneventful report doesn't do justice to. I will be keeping an eye out for it next year!