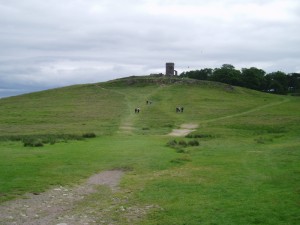 Lesley Pymm reports:  I decided to have a go at the Charnwood 15 this year.  It is a lovely run in a beautiful setting, and not too far from home.  I had not run it for ages and thought it would be a good 'long run' as I had not done that much lately!!  The main run/walk is 26 miles and this is the shorter version.  Walkers set off an hour before the runners.  This is good, because it is not very long before you start reeling the walkers in and you know that there is someone behind you!
The event starts in the village of Quorn in Leicestershire.  It is a self navigate route and we are all issued with the route description in advance.  The two events are together for the first 6 miles or so, so navigation is fairly easy as many of them know the way and there are a lot of people around.  Having run through Quorn, we ran onto a track and headed off under a railway bridge and alongside a field.  We carried on along the waymarked footpath eventually coming out in a village that I remembered from last time I ran this.  Then it was off road again and climbing.  The first checkpoint is a self clip one on the top of Broombriggs Hill.  There was a queue for this one, so a chance to have a look round.  Then it was off again, downhill to eventually cross a road and then though a car park to climb Beacon Hill – it was here that I started to catch the walkers up.  Passing the trig point on the top, we clambered over some rocks and then down to the second checkpoint -where the two events split and I knew I had to pay more attention to the route as I was likely to be on my own a lot.
There was a bit of road running, and then a very complicated section where I was very grateful for the walkers who found it easier to read the route description, so I was able to follow them!  I did keep checking to keep up to date with where I was, as you can't always trust the people in front!  Then it was off the main track onto a small path up to the ruined windmill at the top of the hill, where the next self clip checkpoint was.  A quick look at the view and then back downhill again.  The track came out into the village I had run through earlier in the event – not much wonder I had recognised it!  Then it was through a golf course – keeping a watch on flying golf balls and irate golfers (they must really hate this event) – and out the other side to start climbing again to clamber up to Old John – a tower at the top of the hill where there was another self clip checkpoint.
The compass came out here as there was a compass bearing suggesting the best way down to the next checkpoint.  Glorious views and a good run downhill.  It got a bit boggy at the bottom, but generally the ground was really dry.  I picked up a bit of fruit cake at the checkpoint – yes, I can eat soft cake now – not up to flapjacks yet, but the jaw is getting there!
Crossing the road I ran over fields to Swithland Wood and then through the woods to eventually come out in a village and quite a complicated bit of navigation to get back to the finish.  My GPS showed that this was just short of 17 miles and I had taken 3.46 hrs.  I felt really shattered.  This was the furthest I had run for such a long time, but I was so pleased to have done it.
There was food – lots of it – for everyone.  I picked up my certificate and then headed off home before the rain started.  A good morning.