Firstly, my apologies; I did pledge, when I took over as Chair of the club, to provide some kind of written update on a weekly/fortnightly basis and I am very conscious that I haven't delivered anything of that kind for a good couple of months. On this occasion, I do have a valid excuse, having had a particularly demanding few weeks at work in July and then taken a (if I say so myself) well-earned fortnight off to recover.
Anyway, so much has happened since I did last write a blog that it would be impossible for me to attempt to cover everything in one go; I'm pretty sure that most of you would drift off before the half way point anyway, if I did. A lot of members have been involved in fantastic races and events since then and have submitted wonderful race reports to the website to give everyone a little flavour of their endeavours.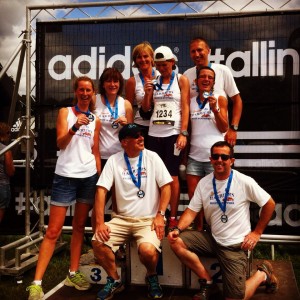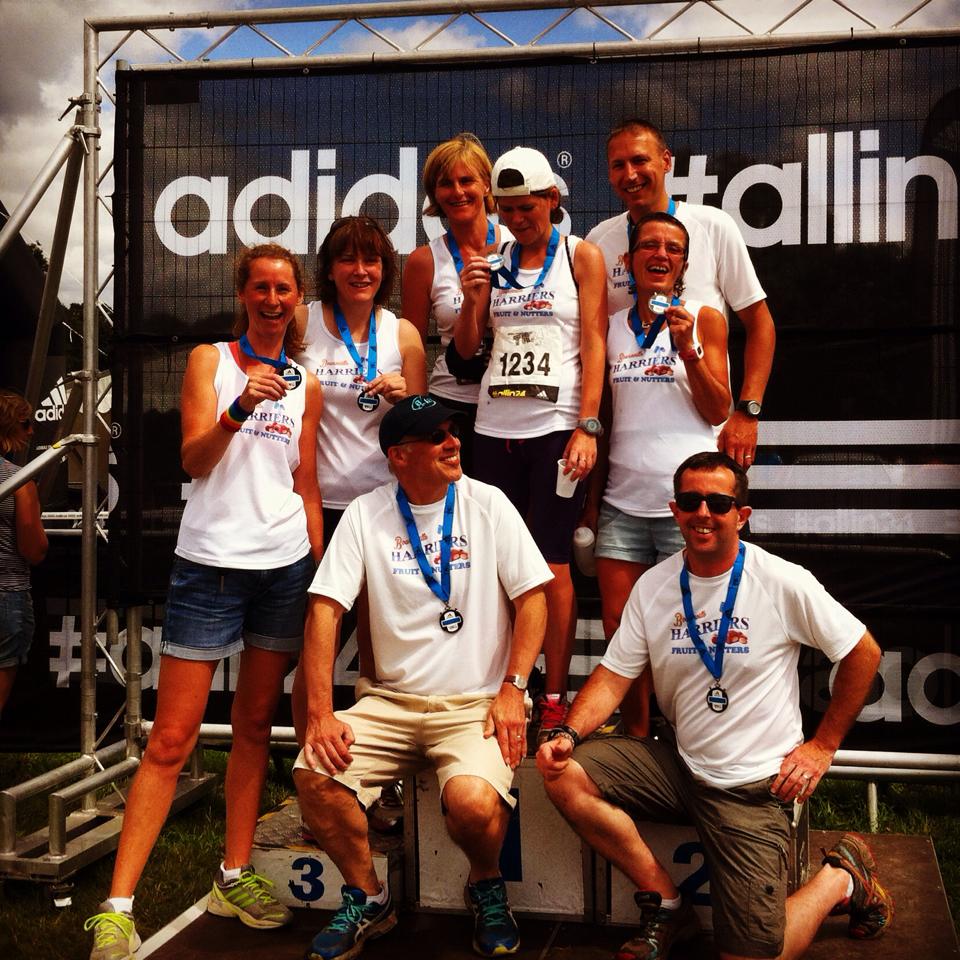 Fruit and Nutters at the Thunder Run
A large group of Tealsters took part in the Adidas Thunder Run in Catton Park, Staffordshire over the last weekend of July and Laura Gale's comprehensive account of the joys of running through muddy woodland in the middle of the night with only dim torchlight for company will have either left you feeling that you won't want to miss out on that one next summer…or that you will once again stay well clear. I think I'll settle for just reading another of Laura's reports in 12 months' time.
Dave at the bottom of a big hill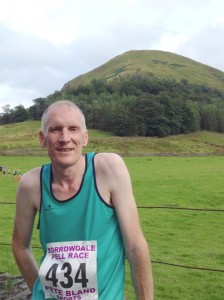 Equally entertaining was Dave Harte's description of his introduction to Fell Racing while on holiday in the Lake District on 6th August  (and the accompanying You Tube clip – bare back dry sledging, anyone?). As a complete contrast, Dave also reported on his first 3000m track race in Worcester on 24th July where he produced an equally strong performance, and the Mudrunner Oblivion in Ledbury at the end of June, in which he finished 86th out of 1540, demonstrating that a varied racing itinerary can help benefit our showings across the disciplines. Great stuff, Dave!
The club's own annual Killer Mile on 17th July proved, as always, to be a brief, but entertaining burst of running followed by a slightly lengthier social occasion at the Peacock. Paul Thompson upset the form book to storm ahead of Dean Parker to take first place. Thanks to John McKeon for organising the race and nominating the awards winners!
The 2 Pauls express their indignation at Antony's 'Most Glamorous Runner' award at the Killer Mile!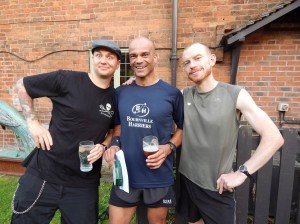 As always, Lesley Pymm has been racing in far flung corners of the Midlands and beyond, taking part in races that most of us wouldn't have known existed, were it not for Lesley's informative reports. Lesley's recent events have included the Bath (long) Half Marathon, Gate Gallop, Baggeridge 5k and Darlington parkrun. Thanks for keeping us entertained, Lesley; I'm not sure I'd have been happy about the marshalling in Bath, mind!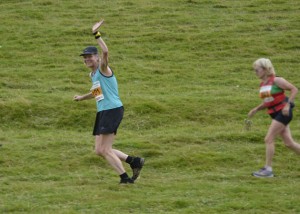 Lesley at the Baggeridge 5k
Lesley has also enthusiastically embraced the 'Teal Targets' races, which we are looking to formalise a bit more by the beginning of 2015. These events (thus far, the Sphinx Summer 5, the Northbrook 5k, the Stourbridge Stagger and the BRAT 5k) have been selected to encourage members to enter certain races, en masse, in order to reinforce our already strong team spirit and show the rest of the running community in the Midlands what a fantastic club we are to be part of (and a handful of other reasons) and this was exemplified over in Stourbridge last Saturday, when 15 of us braved the hills and nettles of the Black Country trails and enjoyed a couple of drinks to toast each other's success afterwards. Admittedly, I didn't actually make it into the pub, but was there in spirit. A highlight for me was Jude Glynn's grim-faced sprint for the line in which she had to deploy all of her grit to hold her position; fantastic running, Jude.
Team Teal out in force at the Stourbridge St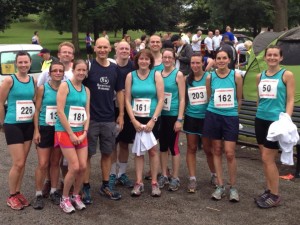 umble

I'd like to thank Laura Leslie (and Paul Gorman) for the effort they have put into devising the Teal Targets ideas and making events such as this a big success. Clubs like ours are dependent on the likes of Laura and Paul in order to thrive and their work can go unrecognised at times; we should all be appreciative of their endeavours.
The other highlight of last Saturday was our Cannon Hill parkrun takeover. I have to say, I was a little anxious that this might end up being a bit of a damp squib as I wasn't able to do as much planning for it as I would have liked, for the reasons highlighted above, but I needn't have worried; I would estimate that as many as 50 of us turned out in force to marshall, time, scan, bake, pace and run! The event really showed off the club at its best and I hope we were able to attract a few additional members to the club as a result. Laura even got to referee an evenly matched fight between a young man and an elderly lady, but that's another story. To everyone who joined in, thank you so much for your contributions; you all made an immense difference.
I have managed to find time to do a reasonable amount of racing and running (slightly undermines my earlier excuses, I know) over recent weeks and have really enjoyed the team spirit engendered on these occasions. It does add an extra dimension to the race when there are club prizes up for grabs and this was particularly applicable at the Wythall and Hollywood 5k and 10k on 6th July when we combined to win the club the princely sum of £150. In addition, Nicola Sykes was first woman home in the 10k and Dean Parker scooped the 5k, in spite of being decidedly under the weather.
Christine celebrates making it to Brindley Place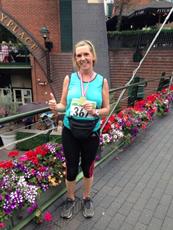 Over the same weekend, there were a number of club members taking part in the Birmingham and Black Country Half (or quite a bit more than a half according to most reports. This race represented a huge milestone in the running career of Christine Jenkins, who, under the guidance of Mike Shally, recorded a fantastic time of 2.31 in her first half(ish) marathon.
BvH women also did fantastically to win the club prize at the attritional Wyre Forest Trail Half the following week. Again, this was an event in which a veritable sea of teal flooded a relatively small field. For a club of our size, we really are incredibly visible at races such as this and it is always great to see. Linda Howell, who has found out that there are real positives to turning 35, was one of a number of harriers to win prizes.
The annual BRAT Rowheath 5k took place last Wednesday and there were some great performances from a number of club members, who took advantage of running on familiar roads around the club. Simon Newman's 2 minute PB (one of many he has recorded over the last few months) of 19.19, was one of a number of standout efforts. Simon is a shining example to everyone in the club of what can be achieved with hard work and dedication and I'm sure his times will continue to come down in the years to come.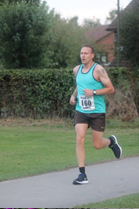 Another PB for Simon at the BRAT Rowheath 5k
The Worcestershire midweek series races have attracted Teal runners in huge numbers over the course of the summer; I'm pretty confident from having perused the results that no other club has had as many participants as us! The final scores haven't been officially published yet, but I'm pretty sure that Linda Howell, Sarah Rock, Suz West, Matt Cook and Stuart Pearson have all won prizes for their performances across the series.
I am always a little conscious of not wanting to appear to only celebrate the achievements of those who might be considered as 'elite' runners. However, a couple of people have put in performances over the last couple of months, which really mustn't be overlooked. Firstly, congratulations to Barrie Roberts, who won a Bronze Medal at the British Masters Championships in the V70 800m in a time of 2.53.18. Age shall not wither him…
Secondly, Nicola Sykes, having put in some astonishing performances over the Cross Country season, has spent the summer rewriting the club's record books. Back in July, she twice broke the 10k record within a few days, bettering her Hollywood and Wythall time at Droitwich on 9th July, with an incredible effort of 36.01. Over the last week, Nicola has gone one better in the 5k, updating the club record 3 times in 8 days! Nicola ran the Nonsuch parkrun in 17.30 on 9th August, was 3 seconds quicker at the BRAT Rowheath 5k in midweek (when she became Warwickshire Champion), then topped things off at Brueton parkrun on 16th August by running 17.13. Incredible performances, Nicola – and I'm sure there's more to come!
Nicola powers to another Warwickshire Championship title in the BRAT Rowheath 5k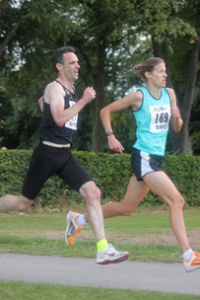 Anyway, I think that's probably enough for now. I hope that my next blog won't be too far away; I will focus a little more on a few matters away from racing in that one as I'm not sure there's much activity scheduled for the next couple of weeks.
All the best,
Oliver