Dear All,
On finding myself the new Chair of Bournville Harriers a couple of weeks ago, I thought it might be helpful to put together a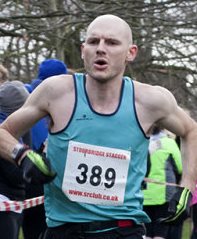 regular newsletter of sorts, in order to supplement the excellent race reports that already fill this website and to ensure that important or interesting information is disseminated among members as quickly as possible. I have aspirations of putting something in writing on a weekly basis, but you'll have to bear with me if I'm not as efficient as that.
I'd like to start by extending my thanks (and I'm sure the thanks of all members) to Chris Harlan-Marks, who has been a fantastic Chairman of the club over the last couple of years. I'd also like to thank outgoing members of the committee for all of their hard work. I hope that I and the other new committee members can build on their legacy moving forward from here.
I suppose I ought to actually introduce myself as, being something of a newcomer, I expect that there are a fair few people who don't know who I am. My name is Oliver Kirkland and I joined the club in October 2012. I came to running by accident in late 2011, having survived a serious illness and undergone major surgery earlier that year, and found myself needing to do something to get vaguely fit again. A few tentative 3 mile jogs gradually got a little longer and quicker to the point that I thought I'd try a couple of races. The story probably resonates in some way with most runners…before I knew it, I'd developed a habit, which eventually became an addiction, and here I am.
I was attracted to Bournville Harriers because I thought the club's motto of 'Performance, Participation, Encouragement, Enjoyment' pretty much encapsulated what I felt a sporting organisation should be about. I liked the fact that there were obviously some very serious, competitive runners in the ranks, but also that it was a club that encouraged people who might not have tried running (or any sport for that matter) before to 'give it a go'. Above all, I got a sense of BvH being a running community in which everyone took pride in and celebrated one another's achievements.
I'm delighted to be able to say that, 18 months down the line, the club has more than lived up to my expectations and I hope that I will now be able to put something back into Bournville Harriers as Chairman.
There has been a fair amount of racing activity over the last few weeks. I suppose there's no better place to start than with the country's Blue Riband running event, the London Marathon (I won't get sued if I omit the corporate tag, will I?) on 13th April. Having not yet raced over further than 13.1 miles, I am in awe of anyone who can get round twice that distance, irrespective of their time and I thought that Mark Allen's superb report gave a moving insight into the physical and emotional demands a race of that kind puts on a runner. 10 Harriers competed around the capital's streets, with Helen Lawrence (4:13:56), Mark Allen (4:08:54), Jenny Walton (3:48:08), Simon Newman (3:44:12), Sarah Rock (3:20:01), Matt Sandison (3:16:33), Rich Rollins (3:04:48), Andy Hall (3:04:37), Nicola Sykes (3:03:55) and John McKeon (2:59:39) all putting in incredible performances on an increasingly hot day in which even Mo Farrar suffered in the 2nd half.
It feels a little churlish to single someone out for praise when so many have given their all, but John's sub-3 time was perfectly paced and a deserved reward for a winter of hard work, after he twice missed out on that cherished landmark by a matter of seconds in 2013.
On the same morning, Emma Hopkins posted a PB of 50:15 in the Ronnie Bowker 10k at Cannon Hill, while Andy Hoole finished 17th in 41:37. Over in rural Herfordshire, in the Magnificent Eastnor Castle seven, John Enright put his cross country experience to good use with a time of 1:00:33, while Stuart Pearson was somewhere back to near his best, finishing 11th in 49:05.
The previous day saw fantastic performances from the V35 and V45 women's teams in the Midland Masters Open Relays at Donisthorpe Park in Derby. Strong running from Linda Howell, Suz Westt and Laura Gale brought the V35s home in 3rd, while Lesley Proctor, Lesley Pymm and Jude Glynn also ran magnificently to secure a bronze for their team.
Back at Cannon Hill on 12th April, Elizabeth Bryans ran a PB of 22:20, while Allan Green also ran a PB of 27:18 in his 110th parkrun. The following week saw a new PB for John Enright (21:04).
On Easter Sunday, James Collins put in a brilliant run to finish 5th in the Massey Ferguson 5 mile race in Coventry with a PB (I think it was James' 1st 5 miler, to be fair) of 29:16. Not far behind were Caroline (32:24) and Chris (33:20) Harlan-Marks.
I combined a family visit with a (very) little bit of racing by taking part in the Bushley Mile. This was a fantastic event organized by Tewkesbury Athletics Club and presented a great opportunity to try out a road running oddity. The course was pretty much straight, apart from the sharp bend 220m from the finish, and slightly uphill, though nothing compared to our own dear Killer Mile. I'm afraid the results aren't up yet and my Garrmin failed to get a signal, so I don't know what my time was. However, it was an interesting experience, even though I got my race plan so wrong I was completely spent by the halfway point and got overtaken by 2 people in the closing stages.
Andy Hoole took on a wholly different kind of challenge on 19th April by doing the Compton Downland 20 miles Challenge in Berkshire as part of his preparation for the Liverpool Marathon next month. Andy's excellent report is already on the website, but his 21st position in a time of 2:40:50 on a tough multi-terrain course is certainly worthy of an additional mention.
I should remind everyone that membership fees are now due. I hope existing members are intending to rejoin and that a few new faces will enter our ranks over the next few months. At just over a pound a week, it's hard to deny that being a Bournville Harrier represents exceptional value for money.
Steve Atkinson has taken over as Coaching Coordinator and is doing a great job of ensuring that details of Monday and Thursday sessions are announced in advance on the website. This Thursday (24th)'s session will be Hill Reps with variations, while next Monday (28th) will be the Cannon Hill route.
I would also like to draw everyone's attention to the unofficial sessions led by Dean Parker. As most of you will be aware, Dean is an outstanding and inspirational runner, who has led our cross country and relay teams over the last few years with distinction. Dean's sessions are on the Row Heath Playing Fields on Monday evenings and at Cofton Park on Saturday mornings at 8am. The emphasis of the sessions is on hard reps for people keen to inject some speed into their running, but please don't feel that they are only targeted at the club's stronger runners; Dean is keen to promote the development of club members of all standards and you will find the environment very supportive and friendly.
I would also like to remind members who are of a certain age (35+) that the British Masters Road Relays take place in Sutton Park on Saturday 17th May. I know that the closing date for entries has now passed, but would urge everyone to involve themselves in events like this in the future, irrespective of what level they feel they are at. It's a great feeling to be part of Team Teal and the support is fantastic. It's also a great opportunity to develop your racing skills in a slightly different kind of setting.
Well, that's it for now. I'll try to keep future postings a little briefer in future. The new committee will be meeting for the first time this coming Monday, so if there are any particular ideas you have about the future development of the club, please feel free to approach me or any other committee members. Obviously, we won't always be able to be all things to all people, but we'll try our hardest to represent you to the best of our abilities.
All the best,
Oliver