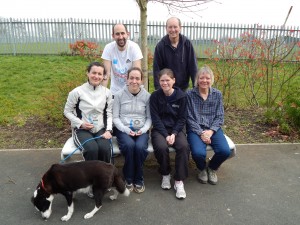 This was the first time I had entered the Centurion RC Grand Prix, a series of six 5 mile races throughout the winter which a few fellow BvHers had previously done and in which my Dad had competed 25 years ago! Johnnie Walker set the series up 30 years ago and gave a very touching speech at the end of series presentation. Sadly Johnnie is terminally ill but said that he will be forever watching the race series from above, as he put it, and what a fantastic legacy to be leaving behind.
The course is relatively flat and fast, looping around streams and a lake in a park in Chelmsley Wood. The route takes in some dirt tracks as well as tarmac so is classed as multi-terrain though it is mostly firm footing. It is meticulously organised with the results being stuck up on the wall by the time you've finished your warm down. The marshalls are so helpful and encouraging, seeming to know just when you will need a shout on that last lap! Each month there are prizes for the first 4 senior males and females and for the first 4 males and females in that months chosen age category, as well as numerous spot prizes.
In order to have raced the series, you need to have taken part in at least 4 of the 6 races. I just about managed this and all series competitors were awarded with a very nice Grand Prix drinking glass with the race logo and year on the side!
All the BvHers did fantastically well with PBs, individual and series prizes and some really great performances. Suz West posted some excellent times throughout the series and came home with 3rd prize in race 4, and Lesley Pymm battled through injury to complete the series with an age category 2nd prize in race 6. Lisa Cartwright finished strongly in race 6 also and looks to be steadily improving and there were great performances from Chris H-M, Olly Kirkland and Paul Gorman in their races too. Caroline and myself were over the moon to receive our overall series trophies for 1st and 2nd senior females (I'll let you guess which way round that was!) and todays last race was my favourite it was a really nice atmosphere and felt like an achievement to finally get through a winter without my old injury stopping me.
Many thanks to all the organisers and the supporters (Dad, Paul and Kelly the dog!). I would really recommend this race series as a well organised, friendly yet competitive set of events.
Results for BvHers
Overall series results (best 4 results from 6 races)
1st senior female – Caroline Harlan-Marks
2nd senior female – Laura Leslie
Race 1 – 3/11/13
14           Caroline Harlan-Marks   31:46
17           Oliver Kirkland                   32:06
20           Chris Harlan-Marks          32:47
39           Laura Leslie                         35:05
113         Lesley Pymm                     45:16
Race 2 – 1/12/13
15           Caroline Harlan-Marks   31:16
29           Laura Leslie                         33:49
57           Lisa Cartwright                  36:44
101         Lesley Pymm                     43:51
Race 3 – 5/1/14
15           Caroline Harlan-Marks   31:33
16           Chris Harlan-Marks          31:44
21           Paul Gorman                      32:35
50           Suz West                             37:14
95           Lesley Pymm                     44:23
Race 4 – 2/2/14
39           Suz West                             35:59
Race 5 – 2/3/14
30           Laura Leslie                         35:11
37           Suz West                             36:20
105         Lesley Pymm                     60:30
Race 6 – 30/3/14
20           Chris Harlan-Marks          33:21
21           Caroline Harlan-Marks   33:29
28           Laura Leslie                         34:19
39           Lisa Cartwright                  36:05
41           Suz West                             36:27
76           Lesley Pymm                     44:57