Lesley Pymm reports: The first event of the Centurion Grand Prix (a 5 mile race each 1st Sunday of the month between November and April) saw a lot of confused runners studying the map of the course.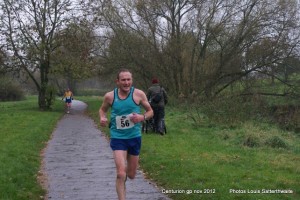 The familiar, and slightly boring course, had been changed because one of the paths had fallen away and could not be used until it has been re-instated. This is going to be done, but not for a few months. So the start of the event was part way round our usual first, shorter, lap.
We then ran around to the familiar finish and then off on two longer laps. This took us out past Babs Mill and onto a more multi-terrain course than is usually used on this event. Most people approved and found the course more interesting than usual – but some found that they were not really wearing the best shoes for the run.
I enjoyed it – well, I would wouldn't I? A bit of mud and slosh and I'm happy. I'm not sure that Caroline was so convinced! However, she won the women's race, so it couldn't have been that bad.
Stuart Pearson was 9th overall and 1st M40 in 29.39. Caroline Harlan-Marks was 16th overall and 1st woman in a time of 31.29, with Chris H-M following her in – his time was 31.30. Mick James did a very respectable 42.26 and I finished off the BvH representation in 44.05.
As usual, this friendly event finished with prize giving, including spot prizes.