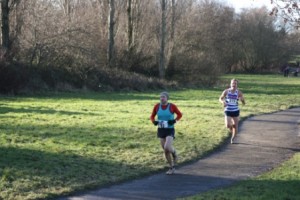 Andrew Halliday reports: Sunday 9 January 2011 saw the 2nd race in the 2010/11 Centurion 5 mile series. For those statisticians out there, GARMIN records the race as 8,095 metres, so just a bit over 5 miles from start to finish.
This is a multi-terrain race, although it's flat and unlike most "multi-terrain" races actually has some tarmac/concrete to run on. There are a few things to hurdle and gates/alleys to navigate (and sometimes geese) which tend to try and slow you down.
Having struggled to finish the Warwickshire XC Champs at Cofton Park the day before, due to lack of … well just about everything, and having been beaten by … well just about everybody, I decided that I was sick to the back teeth of XC, and rather than quit running altogether (I know, drama queen or what), I would revert back to a flat course that I love on terrain that borders acceptable to me. It was a case of getting back on the saddle as soon as possible rather than dwell too much on the previous day's disappointment.
A quick fitness test on my calf (which I arguably failed but don't tell the wife) and off I went. Conditions were warm but it's quite an exposed course so the long back straight was its usual wind-filled delight. Of the 130 runners, the ever-improving Richard White, of BRAT, led the race from the start, but I managed to catch him at 6k, and decided to try and break the field with a quick kilometer which worked. I won the race in 27m 57s, Richard finishing 2nd in 28m 20s.
My quickest time over that course is 26m 54s, and whilst I did have a bit left in the tank at the end, I'm still not running at the level I was last year. That is mainly due to injury, but the Centurion race has given me the belief that I'm not such a bad runner, and more importantly, that whilst XC is like running on another planet for me, persevering with XC will serve me well once I hit the road race season.
Full results. (PDF)