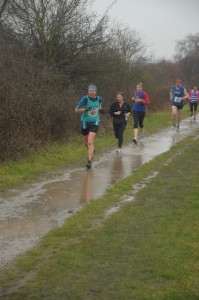 Lesley Pymm reports: There were a few fewer runners at this event than there have been recently and I was the only one there from BvH this month. It was WET!
I wore trail shoes and I think it was the right decision. Everyone was soaked to the skin, but I could feel the water coming out of my shoes, whereas road shoes would have soaked it up. This is a run with one short lap and two long ones.
It is a good surface over half of it and a bit more 'rugged' on the other half, with a few muddy patches. Some people did struggle on the mud. For those who did the XC this year – the conditions today were worse than we experienced on any of the league races, although there were no hills!
I did about 20 seconds slower than January and was pleased with that in the conditions and with Belvoir still in my legs. For anyone who is interested, the new date for the race that was cancelled last month because of the snow is 29 April.