Lesley Pymm reports:  I was taking a while to recover from the Belvoir Challenge and not really feeling great.  I had volunteered at parkrun that morning and decided that it was a lovely day, and the Canter is the shortest race of the Shropshire Winter Fell Race Series – so what was to stop me running it?  Decision taken, off we went.  As we drove over to Shropshire, the weather changed.  The sun went in and it clouded over, with a few spots of rain.  Oh well, I was on the way now.
I got there and registered and did a bit of a warm up.  Some of the others laughed at me when they heard my reasoning for doing the run.  There were comments of: 'You haven't done this before then'.  What was I letting my self in for?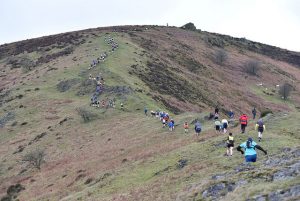 At 2.00, off we went.  It started on the road that runs through Carding Mill Valley and we ran up to the first climb which was, I think, Cow Ridge.  It was very steep and the wind had got up so I was being blown over.  I was last, but at this point I could still see the others ahead,  I even had ambitions to catch one or two.
I was following the others  and it was pretty hard going, but OK.  Then I came over a ridge and couldn't see them ahead any more.  The route was marked, but there were times when I couldn't immediately see the tapes, so had to slow to a walk to be sure I was going the right way.
After a while I became aware of a couple of people with a dog behind me and I realised that they were taking the course in.  Normally I would have been pretty fed up at this, but I was relieved as I assumed that they knew the way and would shout me if I went wrong.
Having gone over the Burway, the route then went along the path alongside Carding Mill Valley.  Then a marshal was pointing down a very steep slope.  She told me that some had done this on their backsides.  I did manage to stay upright, but was not very fast.  Through the stream at the bottom, which was quite deep after all the rain we had been having, and then up and over Stanyeld.
I was following a path and got to a marshal who pointed me uphill and said that when I got to the brow I would see the real climb.  That was ominous, this climb was enough!  I dragged myself up the hill and then could see what he meant, there was a massive climb ahead over Brodbury Hill.  I was running (?) alongside a golf course at one point – what a place to play golf!  I eventually got to another marshal who pointed me downhill and told me to run towards the two people at the bottom.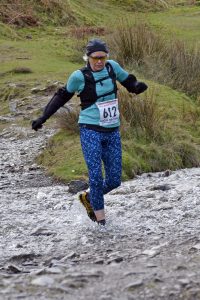 It was slippery and I had to be careful of where I was putting my feet – and the people at the bottom didn't seem to be getting any closer.  The dog was trying to round me up and the man who was collecting the tapes in managed to slip on this slope.  I stayed upright again and eventually got to the bottom.  The finish was a few hundred meters along a very stony path, which I took great care on.  There was a stream just before the finish and then I was there.
Everyone agreed that it may be the shortest run of the series, but it is not the easiest by any means.  It was something like 5 miles and I took around 1 hour 35 mins!!  Pleased I did it and enjoyed it with hindsight.