Barrie Roberts Reports: On Saturday last, I drove down to Cardiff, in company with my wife Katie to participate in the British/Welsh Masters 1 Mile Road Championships. I competed at 4:15pm in Race 18 (the last race of the day),which included Women 35/40/45/50/55/65/70/75 and Men 65/70/75.
The Course is literally in the City Centre and consists of two anticlockwise loops, the first is just over 400m and the second completes the accurately measured 1 Mile distance. Excellent viewing for spectators i.e. there is no hiding place!
I placed myself on the very front of the starting group and got away to a quick start. Alas, after 40 or so metres whilst making a sharp left hand turn my left knee-cap `went` and I had to slow down and try to run off whatever was the problem! Fortunately,within a minute or so I seemed to be running ok and without any undue discomfort, and was able to complete the 1 Mile distance. Results can be viewed on Run Britain and Power of 10.
I was disappointed not to have run faster on the day, because I had gone faster in training but did enough to become the Welsh and British Mile Road Champion in my age category for 2017. Sometimes championship running is about getting yourself around.
I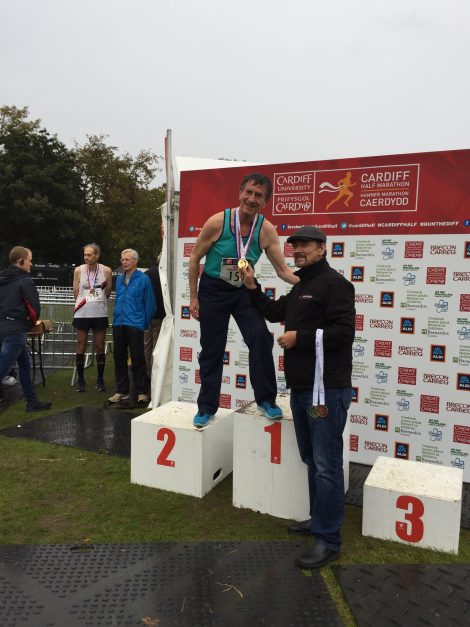 t was a very real privilege/pleasure to be presented with my Welsh Athletics Gold
Medal by Steve Jones, a legend of the running fraternity (30 years ago, Steve was the fastest marathon runner in the world). My British Gold Medal was presented to me by Mel James, Chairman of WMAA who on his day is still quick over 200m/400m.
PS. I may never know why my knee let me down but with the benefit of hindsight I don`t think my warm-up preparation was quite right on the day. I had run around the 1 Mile Course earlier on, but needed to do a more intensive and focussed preparation nearer and just prior to the actual Race itself i.e. I think that I had got cold (in a relative sense) prior to the Start.