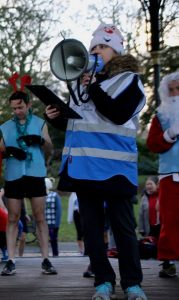 The conditions were perfect for our Teal Takeover at Cannon Hill parkrun today, and we enjoyed a return to the standard course, with just a little bit of mud to navigate by the triangle. 608 people ran, jogged and walked the course, including 40 first timers. 76 recorded new Personal Bests, some of whom were helped along by the pacers who formed part of our team of volunteers. We were pleased to give an early Christmas present to Cannon Hill's core team who bring us our favourite free, weekly, timed event each week. Anna McManus took to the bandstand as Run Director for the first time and many of our volunteers today were also novices, handling the responsibilities well and delivering a fantastic event with a great atmosphere.
The values of parkrun align closely with those of BvH and whilst encouragement was the order of the day for our volunteers, on the performance side there was some impressive running to enjoy; Will and Chloe Richardson of Birchfield Harriers took the honours finishing first male and first female each setting new PBs. Henry Brocklehurst and Nic Sykes were the first male and female finishers for BvH.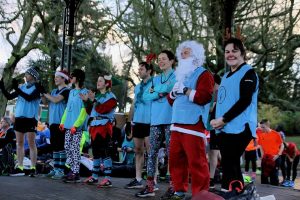 Tom Bunn's second PB in a row registered a new Club Age Category record, with Laura Gale setting the new club best for her age group with her time of 21:51. There were also new PBs for Monica Baptista, Guy Marston, Alison Davies, and Jaeda Goodman.
It was a special occasion for Fiona Barker joining the 50 club, and Allan Green who has a dual claim with the Vegan Runners joining the prestigious 250 club (of which 242 have been at Cannon Hill!) We now look forward to an extra parkrun event on Christmas Day (with a 9:30am start) to set us all up for the festivities.
Thanks to the 56 volunteers who made the event happen today: Martin FOSTER • Barrie ROBERTS • Helen BLOOMER • William ALDRIDGE • Linda HOWELL • Simon NEWMAN • Matthew James BROCKINGTON • Katie ALLDRIT-ROSE • David CHAPMAN • Stephen FORCER • Ian EDGINGTON • Michaela THOMPSON • Steve DOSWELL • Jude GLYNN • John CHEEL • Keith EVANS • Emma HOPKINS • Lynda BATCHELOR •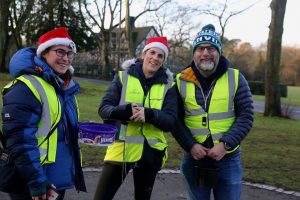 Stacey MARSTON • Linda GOULDING • Chris HAMLETT • Lisa ARSCOTT • Sylvia HUGHES • Daisy OLSEN • Nick HILTON • Geoffrey HUGHES • Michelle BURGESS • Rachel HURSEY • Mathilde HOUSLEY • Charlotte FORCER • Richard KEEP • Jeremy Robert JEFFERY • Caroline ANKCORN • Ian REYNOLDS • Peter HICKMAN • Ron CATTLE • Nicola TAUTSCHER • Donato ESPOSITO • Richard SHEARING • Zosia WEBSTER • Clover WEBSTER • Catherine MCGRATH • Robert SAUNDERS • Miriam STEVENS • Michael WOODALL • Anna MCMANUS • Tim HODGES • Guy MARSTON • Rebecca JONES • Kieran HUGHES • Suzanne BUNN • Stewart CROWTON • Claire DANIELS • Dan HOWES • Martin WEBSTER • Ruth WILLIAMS
Today's full results and a complete event history can be found on the Cannon Hill parkrun, Birmingham Results Page.Thanks to Pete Hickman for the photos here and on the Cannon Hill parkrun Flickr Group.